Filter Options
Best Mortgage Rates in Abbotsford
Abbotsford mortgage rates are competitive thanks to above-average home prices and its proximity to Vancouver. These are the lowest rates from providers with offices in or near Abbotsford. For lenders and brokers outside of the city check the best rates in BC.
Abbotsford Mortgage Rates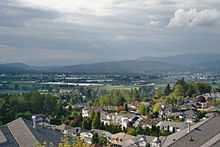 City in Brief: Abbotsford is situated in British Columbia's Lower Mainland and is the largest municipality outside of Greater Vancouver. Twenty three percent of the city's population are visible minorities according to Statistics Canada – the third highest ratio in Canada after Toronto and  Vancouver. At nearly 375 square kilometres, the city is the largest by area in the province.
Population: 141,397 (Source: StatsCan census, 2016)
Abbotsford Average Home Price: $596,000 (as of December 2019; Source: CREA)
Home Price Change (year-over-year):  -1.1%
Minimum Down Payment Abbotsford: $34,600 (based on average home price)
* Note: This page lists lenders with branches in the city and mortgage brokers with registered offices in the city. For a full list of mortgage providers in the province, check the Best Mortgage Rates British Columbia page. (Image source: Wikipedia)