Filter Options
Best 5 Year Variable Mortgage Rates
Variable-rate mortgages have outperformed for well over three decades. The best variable rates of all time have had discounts of one percentage point off prime rate. But even at a more modest prime minus 0.50%, they've handily beat fixed rates the majority of the time.
The 5-year Variable Mortgage
The 5-year variable is the most popular floating-rate mortgage in Canada.
People choose five-year variables for three primary reasons:
Because variable rates have historically cost borrowers less interest than long-term fixed rates (mind you, interest rates have also been in a downtrend for over 30 years).
Because they want more flexibility to refinance earlier with no penalty.
Because they want a mortgage with a cheaper penalty if they break the contract early.
Variable rates have a few disadvantages, however:
Your interest costs can soar if rates rocket higher.
Variable rates are harder to get approved for if you have above-average debt ratios. That's because most lenders require variable-rate borrowers to prove they can afford payments at the posted 5-year fixed rate—in case rates soar. Borrowers must generally qualify based on the much higher "benchmark five-year rate," as set by the Bank of Canada.
Here are a few more tidbits about this particular term:
About 1 in 5 borrowers choose a 5-year variable, but this can change depending on the difference between fixed and floating rates. The wider the difference, the more people that prefer variable rates.
Variable rates are in highest demand when the prime rate is expected to drop, and when the difference between fixed and variable rates is over one percentage point. Historically, the average difference between 5-year variable and 5-year fixed rates has been about 1.25 percentage points.
Most lenders pay your legal and appraisal fees when you switch into a 5-year mortgage. (Note: You cannot typically "switch" a collateral charge mortgage or a mortgage linked to a line of credit. These types of mortgages must be refinanced when changing lenders, which usually entails legal fees.)
Variable-rate mortgages can have two types of payments, depending on the lender:

Floating payments: This is where your payments increase and decrease based on a benchmark of some sort (most commonly prime rate).
Fixed payments: This is where the lender keeps your payment the same for the entire term. If prime rate goes up, you pay more interest and less principal, and vice versa. In most cases, your payment must at least cover the interest due—or the lender will raise the payment.
If you want to guesstimate where 5-year variable rate discounts (to prime rate) are headed short term, keep an eye on Canada's 3-month T-Bill yield (below).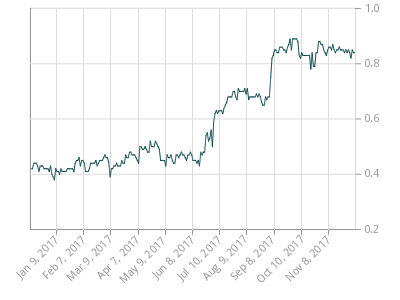 Source: Bank of Canada
And here is prime rate itself, upon which most variable mortgages are based…

source: tradingeconomics.com
Source: tradingeconomics.com