Filter Options
Best Mortgage Rates in Ontario
Ontario mortgage rates are generally the lowest in Canada. The reason is simple, it has more lenders and brokers competing against each other than any other province. Here's a look at the best mortgage rates in Ontario today.
Ontario Mortgage Rates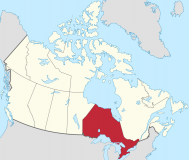 Ontario – Quick Summary
Ontario is the most populous province in Canada, home to nearly 40% of the country's population. Key cities include Ottawa, the nation's capital, and Toronto, the provincial capital and largest city in Canada. The province shares a 2,700-kilometre border with the U.S., and is bordered by Manitoba to the west and Quebec to the east. It contains more than 250,000 lakes comprising one-fifth of the world's freshwater, and serves as part of North America's manufacturing heartland.
Mortgage Lenders in Ontario
As in most of the larger provinces, the Big 5 banks fund the majority of mortgages in Ontario, and they are all based in the province. The province is also home to a large number of non-bank lenders, like First National and MCAP. The largest concentration of lenders is found in the Greater Toronto Area and Golden Horseshoe region.
Ontario is home to some of the country's biggest credit unions, including Meridian Credit Union, Alterna Savings and Credit Union and DUCA Financial Services Credit Union.
Who Has the Lowest Mortgage Rates in Ontario?
You almost can't help but find great mortgage deals in Ontario. It is home to Canada's most competitive mortgage rates thanks to its large population base and the fact that over half the mortgages in Canada originate in the province.
The best mortgage rates are found in the province's larger urban centres, particularly the Greater Toronto Area and Ottawa where the higher income per capita, high broker adoption and aggressive marketing leads to lower rates. As always, the best place to start your rate search is on the Spy.

Does it Pay to Compare Rates in Ontario?
That's a no-brainer. The difference between the best and worst mortgage rates can easily exceed a full percentage point or more. RateSpy can help you find the lowest mortgage rates in Ontario from some of the biggest and most trusted providers in the province. The best mortgage rates are often available through brokers, but the big banks and credit unions also offer discounted rates from that (at times) even a broker can't beat. Be sure to research all providers if you want to get the best rates. The Spy makes that easy.
How Its Mortgages Perform
Ontario's economy is robust and its immigration is high. However, recent mortgage changes introduced by the Liberal Government caused home sales and home prices to fall in mid-2017. Ontario's Fair Housing Plan, which took effect in April 2017, introduced 16 measures that aimed to help make housing more affordable.
One of the key components was a 15% tax for foreign homebuyers. Purchases of Toronto homes by foreign buyers quickly fell from 7.2% to 5.6% of total homes sold within a matter of months. Despite the fall in sales and homes prices, 90-day arrears remained near record low levels.
Ontario Mortgage Brokers 
Some of Ontario's best mortgage rates can be found through mortgage brokers. Some of the province's largest brokers include Invis, Mortgage Alliance, Mortgage Intelligence, Northwood Mortgage, Mortgage Brokers Ottawa and MorCan Financial. Among the biggest deep-discount brokers that operate in the province, there are intelliMortgage, Butler Mortgage, Hatch Mortgage and Sigma Mortgage.
Mortgage Regulators
Bank Mortgage Regulators:  Office of the Superintendent of Financial Institutions and Financial Consumer Agency of Canada (OSFI)
Mortgage Broker Regulator: Financial Services Commission of Ontario (FSCO)
Regulators of Credit Union Mortgages: Financial Services Commission of Ontario (FSCO) and Deposit Insurance Corporation of Ontario (DICO).
Population
14,193,384 (Source: Government of Ontario, 2017)
Capital City
Toronto (Toronto Mortgage Rates)
Largest City
Toronto (Toronto Mortgage Rates)
The Economy in Brief
Ontario's economy, which is the largest economy in Canada, is rich and diversified. Manufacturing is a key component, but the service sector makes up nearly 77% of the province's economy.
The province is Canada's most populous and it has an economic output nearly twice that of Quebec, which is Canada's second-largest economy.
The province's main international exports are motor vehicles, which in 2013 made up 34.2% of total exports.
In 2016 Ontario surpassed Alberta as the nation's fastest-growing economy. Tourism also plays an important role in the province's economy. The Toronto region alone welcomed more than five million international visitors in 2017 and nearly three million overnight visitors from the U.S.
Home Prices
The average annual home price in Ontario was $629,648 as of November 2019, up 9.5% from a year earlier.
 (Images source: Wikipedia)