Filter Options
Best Mortgage Rates
Best Mortgage Rates: Tips
Your objective as a borrower must be to minimize your overall borrowing cost. The rate you choose is secondary to that goal for one simple reason: penalties, fees and rate surcharges can easily offset small differences in lender rates.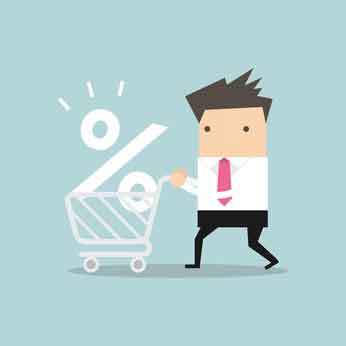 Let's hypothesize, for example, that you need a $200,000, five-year mortgage. You decide to take the cheapest rate on this website because it saves you $600 in interest over the next best rate. Now let's suppose that mortgage comes with restrictions, like:
High Penalties — Some lenders have prepayment charges as high as 3% of your principal, or more. This can cost you up to $4,700+ on a $200,000 mortgage. Penalties kick in if you break the mortgage—which is sometimes necessary if you need to sell or refinance before maturity.
Refinance Restrictions — Certain no frills mortgages prevent you from refinancing with any other lender before maturity. That empowers the lender to charge you higher rates if you ever need to increase your mortgage. If you add another $100,000 to your mortgage, even a quarter-point rate premium could cost you almost $1,200.
No Blending — Some lenders don't allow you to increase your mortgage before maturity without a penalty In other words, they don't offer what's known as a "blend and increase." This can force you to break the mortgage early if you need to refinance or buy a pricier house. That can cost you anywhere from $1,200 to $5,000+ in penalties. A similar result can occur if you need bridge financing and your lender doesn't offer bridges on ports. (Bridge financing is a short-term loan that enables you to make a down payment on a new property, even though your old property won't sell until after your new home closes.)
No Rate Drops — Certain rate promotions are locked in until closing. That's called a "no float down" policy. If rates drop 0.20% before you close, for example, it means you'd be foregoing over $900 in interest savings.
Porting Restrictions — If your lender doesn't give you enough time to port (i.e., close your new mortgage after selling your old home), you could be on the hook for the penalty. Again, we're talking $1,200 to $5,000+ in that case.
Bad Conversion Policies — Many variable-rate borrowers learn the hard way that their lender does not offer their best rates when converting from a variable to a fixed rate. Even a quarter-point surcharge can ding you more than $400 per year.
10% Prepayments — Having to wait to make lump-sum prepayments could cost you over $400 in interest over 12 months. That could occur, for instance, if you wanted to prepay 20% of your balance but your lender only permitted 10% annual prepayments.
Collateral Charges — Collateral charges let you refinance without legal fees as long as you stay with the same lender. On the flip side, if you want to change lenders for a better rate, they force you to pay more. That's because lenders don't allow free "assignments" (a.k.a. "switches) of collateral charges. As a result, choosing a collateral charge instead of a standard charge mortgage can cost you about $600 to $1,100 in registration and appraisal fees at renewal.
Extra Charges — Things like faster interest compounding (some variable rates compound monthly instead of semi-annually) and higher-than-normal discharge fees, reinvestment fees, appraisal fees and "account" fees can easily add up to over $300-600 during your term.
Clearly there is no shortage of expensive fine print in the mortgage business. And perhaps you can live with that—if you don't foresee any changes to your mortgage and you find an ultra low no-frills rate.
Just remember to ask your lender or broker plenty of questions about the limitations of their mortgage offerings. Otherwise, unexpected costs can quickly eat into your rate savings.
You'll ultimately need to make a judgement call about whether these extra costs might apply in your case. Nobody knows your situation better than you.
---
* All hypothetical figures above are based on a $200,000 mortgage amortized over 25 years.