Filter Options
Best Mortgage Rates in Toronto
Toronto mortgage rates are among the most competitive in Canada. What follows are the lowest rates from providers with offices in or near the city. For out-of-town providers check the best rates in Ontario.
Toronto Mortgage Rates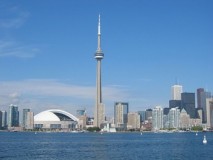 Mortgage Market Overview: Toronto, the capital of Ontario, is Canada's most competitive mortgage market. That's thanks largely to its population, its high concentration of lenders and its relatively high home prices (which means relatively big mortgages). It's also headquarters to Canada's Big 5 banks and home to the most mortgage brokers of any city in Canada. Apart from the major banks, key lenders in the city include Meridian Financial, First Ontario and DUCA Financial. Given the wide array of mortgage options in the city, Toronto mortgage consumers have the easiest access to Canada's best mortgage rates.
City in Brief: Toronto is the most populous city in Canada and the fourth largest in North America. It is recognized as one of the most cosmopolitan and multicultural cities in the world. In 2006 Toronto was home to 8% of the country's population, comprising more than 200 distinct ethnic origins. The city covers an area of 630 square kilometres, with a maximum east-west distance of 43 km, and has North America's third largest public transit system after New York City and Mexico City.
Population: 2,731,571 (Source: StatsCan census, 2016)
Average Home Value: $775,546 (as of September 2017; Source: CREA)
Home Price Change (year-over-year):  2.6%
Minimum Down Payment: $52,554 (based on average home price)
* Note: This page lists lenders with branches in the city and mortgage brokers with registered offices in the city. For a full list of mortgage providers in the province, check the Best Mortgage Rates Ontario page. (Image source: Wikipedia)