Filter Options
Sigma Mortgage Mortgage Rates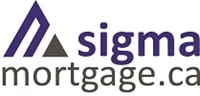 Below are the lowest mortgage rates that RateSpy is tracking for Sigma Mortgage. Always confirm the exact up-to-date rate and terms directly with the provider itself.


Notes on Sigma Mortgage
Sigma Mortgage is based in Toronto, Ontario and provides mortgage services in Ontario, British Columbia and Alberta.
Sigma is one of a handful of deep-discount online mortgage brokers. It works with Canada's leading mortgage companies and financial institutions to get clients the best possible mortgage rates and features.
It promises its clients independent and unbiased advice so that they can make the mortgage decision that is best for them. The team is headed by principal broker Shawn Stillman.
Source:
Provider Website