Filter Options
Best Mortgage Rates in Edmonton
Edmonton mortgage rates are heavily influenced by ATB, Servus Credit Union and mortgage brokers. These are the lowest rates from providers with offices in or near the city. For providers outside of Edmonton check the best rates in Alberta.
Edmonton Mortgage Rates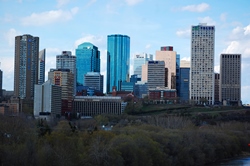 City in Brief: Edmonton is Alberta's second largest city and is unique among the Americas as the northernmost city with a population of more than one million. The city serves as a base for large-scale oil sands projects in the northern part of the province, along with diamond mining in the Northwest Territories. The city is perhaps best known for its sprawling West Edmonton Mall, the largest in North America, and world's largest from 1981 to 2004.
Population: 932,546 (Source: StatsCan census, 2016)
Edmonton Average Home Price: $312,400 (as of December 2019; Source: CREA)
Home Price Change (year-over-year):  -2.1%
Minimum Down Payment Edmonton: $15,620 (based on average home price)
* Note: This page lists lenders with branches in the city and mortgage brokers with registered offices in the city. For a full list of mortgage providers in the province, check the Best Mortgage Rates Alberta page. (Image source: Wikipedia)