Filter Options
Best 1 Year Fixed Mortgage Rates
The 1-year fixed rate has one of the shortest commitments of any mortgage term. At times, 1-year rates are the lowest in the market, even lower than floating rates. That makes them a good alternative to a variable, especially if variable-rate discounts are smaller than normal and expected to improve.
The 1-year Fixed Mortgage
People choose 1-year mortgages for four primary reasons:
Because the rate is lower than other terms.
Because they don't expect to have a mortgage much longer than 12 months.
For more refinance flexibility (because you can renegotiate the mortgage sooner without penalty).
Because they think variable-rate discounts will improve within 12 months.
One-year mortgages have some disadvantages too:
Renewing in one year means you may have to pay switching costs more frequently if you change lenders.
If rates jump, you're not protected at renewal like you would be with a longer fixed term.
Here are a few more tidbits about this particular term:
Only about 1 in 16 borrowers choose 1-year mortgages.
In terms of interest cost, studies have shown that 1-year terms perform very similarly to variable-rate mortgages.
Some lenders are notorious for quoting poor rates to people who try to renew their 1-year terms.
To get a 1-year term, you generally have to you prove you can afford a payment based on a higher posted 5-year fixed rate (a.k.a. "qualifying rate"). This rate is set by the Bank of Canada.
You can lock in your renewal rate in just six to nine months (since most lenders offer 90- to 180-day rate holds).
Many lenders do not pay legal and appraisal fees when you switch into a 1-year mortgage
(By contrast, lenders often pay legal and appraisal costs on terms of three or more years.)
The most flexible 1-year terms let you convert into a longer term at any time with no penalty.
If you want to guesstimate where 1-year rates are headed short term, keep an eye on Canada's 1-year treasury bill yield (below).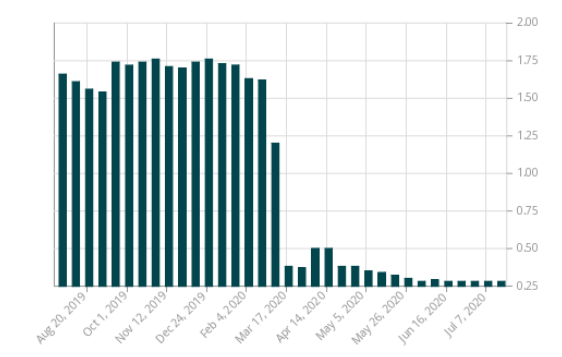 Source: Bank of Canada