Filter Options
Best Mortgage Rates in Hamilton
Like most areas in the Greater Toronto Area, Hamilton mortgage rates are better than average due to higher-than-average house prices, which attracts more competition. Below are the lowest rates from mortgage providers with offices in or near the city. For rates outside of Hamilton, see the best rates in Ontario.
Hamilton Mortgage Rates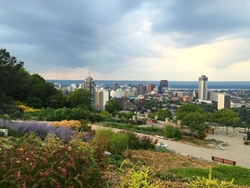 City in Brief: Situated on the western tip of Lake Ontario, Hamilton is the third largest city in Ontario. Known as the Steel Capital of Canada, as it produces 60% of the country's steel. Among the city's major features are Hamilton Harbour and the Niagara Escarpment, which runs through the heart of the city.
Population: 536,917 (Source: StatsCan census, 2016)
Hamilton Average Home Price: $626,000 (as of November, 2019; Source: CREA)
Home Price Change (year-over-year):  7.7%
Minimum Down Payment Hamilton: $37,600 (based on average home price)
* Note: This page lists lenders with branches in the city and mortgage brokers with registered offices in the city. For a full list of mortgage providers in the province, check the Best Mortgage Rates Ontario page. (Image source: Wikipedia)