Filter Options
Best Mortgage Rates in Kelowna
Kelowna mortgage rates are competitive thanks to a strong economy and growing house prices. The city boasts a strong real estate sector as the third largest metro area in British Columbia. The table below shows the lowest rates from providers with offices in or near Kelowna. For providers that serve other parts of the province, reference the best rates in BC.
Kelowna Mortgage Rates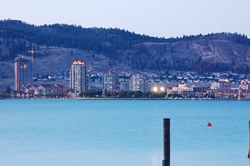 City in Brief: Kelowna is British Columbia's largest inland city (third largest city overall), and is situated on Okanagan Lake in the Okanagan Valley. Orchards and vineyards of some of the region's internationally acclaimed wineries are easily accessed just outside of the city and contribute to the region being a popular tourist destination.
Population: 127,380 (Source: StatsCan census, 2016)
Kelowna Average Home Price: $529,620(as of September 2017; Source: OMREB)
Home Price Change (year-over-year):  8.3%
Minimum Down Payment Kelowna: $27,962 (based on average home price)
* Note: This page lists lenders with branches in the city and mortgage brokers with registered offices in the city. For a full list of mortgage providers in the province, check the Best Mortgage Rates British Columbia page. (Image source: Wikipedia)