Filter Options
Best Mortgage Rates in Kitchener
Like most mid-size cities in Southwestern Ontario, Kitchener mortgage rates are reasonably competitive. Situated along the Highway 401 corridor, its proximity to Toronto means the city has shared the effects of rising home prices in the GTA. What follows are the lowest rates from providers in the Kitchener area. For options in other parts of the province, check the best rates in Ontario.
Kitchener Mortgage Rates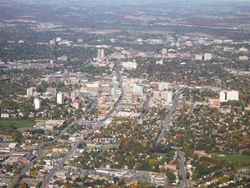 City in Brief: Kitchener is one third of the Tri-Cities metropolitan area, which includes Waterloo and Cambridge. Together the cities form the fourth largest metro area in Canada, although each has its own local government. Kitchener's economy was historically rooted in manufacturing, and even today manufacturing still accounts for one in five of the city's jobs.
Population: 233,222 (Source: StatsCan census, 2016)
Kitchener Average Home Price: $561,771 (as of November, 2019; Source: CREA)
Home Price Change (year-over-year):  17.8%
Minimum Down Payment Kitchener: $31,177 (based on average home price)
* Note: This page lists lenders with branches in the city and mortgage brokers with registered offices in the city. For a full list of mortgage providers in the province, check the Best Mortgage Rates Ontario page. (Image source: Wikipedia)