Filter Options
Best Mortgage Rates in London
Like most mid-tier cities in southwestern Ontario, London mortgage rates are competitive enough. The city's home prices are below the national average so mortgage providers aren't as aggressive as in Ontario's biggest cities. What follows are the lowest rates from sources within the London region. For providers elsewhere in the province, check the best rates in Ontario.
London Mortgage Rates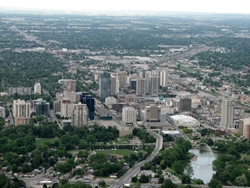 City in Brief: London is Southwestern Ontario's largest municipality, and the 11th largest in Canada. The city is a regional health and education hub, so much so that the University of Western Ontario and the city's hospitals are among London's top 10 employers.
Population: 383,822 (Source: StatsCan census, 2016)
London Average Home Price: $426,332 (as of December 2019; Source: CREA)
Home Price Change (year-over-year):  14.9%
Minimum Down Payment London: $21,316(based on average home price)
* Note: This page lists lenders with branches in the city and mortgage brokers with registered offices in the city. For a full list of mortgage providers in the province, check the Best Mortgage Rates Ontario page. (Image source: Wikipedia)