Filter Options
Vancity Credit Union Mortgage Rates

Below are the lowest mortgage rates that RateSpy is tracking for Vancity Credit Union. Always confirm the exact up-to-date rate and terms directly with the provider itself.


Notes on Vancity Credit Union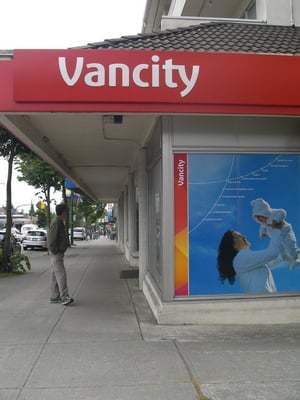 Vancity, more formally known as Vancouver City Savings Credit Union, was founded in 1946 in Vancouver, B.C.
It is the largest credit union in Canada by asset size, with more than $26.4 billion in assets (as of 2018). It also counts more than 500,000 members who are serviced through 50+ branches throughout B.C.'s Lower Mainland and around Victoria.
Vancity's main areas of business include mortgage lending, as well as retail and business banking. Its sheer size gives it a broad array of funding sources, kind of like a mini bank. That gives it access to some of the lowest credit union mortgage rates in the country.
The company has achieved a number of Canadian firsts throughout its history, including: becoming the first financial institution to offer open mortgages in 1950; the first to lend to woman without a male co-signor in 1961; the first to establish a branchless bank in 1997 (Citizens Bank of Canada); and the first in North America to become carbon neutral in 2008.
Vancity Mortgage Rates
Vancity offers a wide selection of mortgage products available for new purchases, renewals or for those wanting to switch or refinance their mortgages.
The credit union regularly has special mortgage offers featuring industry-leading rates. These offers sometimes come with fully-closed terms, purchase value restrictions or loan-to-value limits, such as being available only for high-ratio rates (i.e. those with less than 20% down payment).
But, at times, Vancity has also had some of the best full-featured refinance rates in the country. Albeit, the company may impose a rate surcharge if the mortgage loan-to-value is over 75%.
Vancity's mortgage rates range from standard open-, fixed- and variable-rate mortgages, to more niche products, such as construction mortgages, laneway mortgages and the company's Springboard Program, which helps low-income individuals qualify for home ownership with no down payment.
Its mortgage terms range from six months to 10 years, and come with standard 90-day rate holds and flexible 20% lump sum prepayment privileges. Plus you can increase payments up to 20% a year.
30-year amortizations are available on uninsured mortgages. A surcharge applies.
The credit union's mortgage payment options include weekly, bi-weekly, monthly, semi-monthly, accelerated weekly, and accelerated bi-weekly.
Vancity has mortgage specialists on hand who can answer your mortgage questions and can schedule a face-to-face meeting at a time and location of your choosing. Vancity no longer distributes mortgages through mortgage brokers.
Vancity Fixed-Rate Mortgages
For borrowers who prefer the stability of a predictable rate and monthly payments over their mortgage term, a fixed-rate mortgage is ideal.
A fixed rate won't change for the duration of your term, which can range from six months to 10 years. Like most lenders, Vancity's most popular mortgage term is its 5-year fixed.
Fixed-rate mortgages are available for up to 95% of the value of your home and with amortizations up to 30 years. Payment schedules for Vancity's fixed rates can be weekly, bi-weekly, monthly or semi-monthly.
The credit union offers two flavours of 5-year fixed rates, regular and the "Closed Term Fixed Rate Mortgage." The latter has restrictions in exchange for a lower rate. It can't be transferred to another financial institution until maturity. It can't be combined with an existing mortgage to blend interest rates or extend the term. And Vancity does not allow you to otherwise borrow against the equity in your home during term.
Vancity also offers cashback rates, which can give you back up to 5% of the mortgage principal. This is especially handy for first-time homebuyers who can be overwhelmed with the costs associated with a first-time house purchase.
Vancity Variable-Rate Mortgages
Vancity offers a number of options for those wanting a variable mortgage rate, which fluctuates as the Bank of Canada's overnight lending rate changes.
For those who want the benefits of a variable rate but the monthly payment peace of mind of a fixed rate, Vancity offers the Homeprime Mortgage. This is the credit union's fixed-payment variable rate, meaning that if your variable rate rises over the course of your term, your monthly payments remain stable. If your rate rises, for example, more of your payment will go towards the interest portion vs. principal reduction, and vice versa.
Vancity's variable-rate mortgages can be converted to a fixed-rate mortgage at any time, giving you peace of mind should your financial situation or life circumstances change.
Vancity variable mortgage rates come with amortizations up to 30 years, and open or fixed terms of up to five years.
Vancity Creditline Mortgage (HELOC)
Like most big banks, Vancity offers a home equity line of credit (HELOC) through its Creditline mortgage.
This is a perfect option for homeowners looking to access the equity they've built up in their homes, whether it be for renovation purposes, to pay down higher interest debt or in the event of a financial emergency.
The benefit of a Vancity Creditline mortgage is that you can pay as little of the principal down as you choose. You can simply pay the interest or pay the loan off completely at your leisure. There are no payment terms and no penalties for paying back the loan quickly.
These funds can be accessed through cheques, ATM withdrawals, or via online and telephone banking.
Vancity Renewals
Vancity has mortgage specialists on hand to assist with your mortgage renewal. Whether it's a straightforward renewal into the same term, or if you want to reassess your needs and financial goals and explore other mortgage options.
For example, you could potentially add a Vancity creditline to your account if you needed access to additional funds, or you could increase your prepayment options if you want to speed up your mortgage repayments.
Vancity claims to provide competitive and guaranteed rates on renewal. And should rates fall before your renewal date, Vancity will give you the lowest rate within the 90 days prior to that date. That said, as with any lender, you'll want to compare rates here before accepting any offer.
Vancity Refinancing
For borrowers who need to change their mortgage terms prior to their renewal, Vancity offers a number of rates that are available specifically on refinances.
Refinancing an existing mortgage can allow borrowers to restructure their term to lower interest costs, consolidate debt, extend the amortization, withdraw equity from their home for other purposes, such as investing, financing home renovations, post-secondary education for a family member, etc.
Note that due to industry mortgage rules, refinance rates are only applicable to uninsured mortgages (i.e. those with 20% equity or more). And Vancity's best refinance rates have typically been reserved for those with at least 25% equity.
Vancity Mortgage Calculator
To find out how much you could borrow for your home purchase, Vancity offers its Mortgage Affordability Calculator.
They also provide the usual mortgage payment calculator, as well as a mortgage comparison calculator and an amortization calculator.
All are handy to provide you with a complete picture of how much you can borrow based on your current financial situation, as well as what your monthly payments would look like and the total time it would take to pay the loan back.
Check it out by clicking here: Vancity mortgage calculators. RateSpy's mortgage payment calculator is available here.
Source:
Provider Website