After a six-month hiatus, 2.99% five-year fixed rates are making a triumphant return.
You'll start seeing brokers quote them online by next week. It may take major banks a bit longer to catch up (assuming rates keep falling). For the time being, however, these 2.99% specials may come with restrictions like 30-day closes, no pre-approvals, etc.
Some feared 2.99% five-year fixed rates would disappear for years. A recovering economy and Fed tapering were supposed to drive up bond yields, and take fixed mortgage rates with them. The return of sub-3% rates serve as just the latest reminder that rates take a random walk.
Falling Canadian bond yields have triggered the descent in fixed rates . This chart below says it all. Five-year yields, which guide fixed rates, have sunk 0.40 percentage points since New Year's day.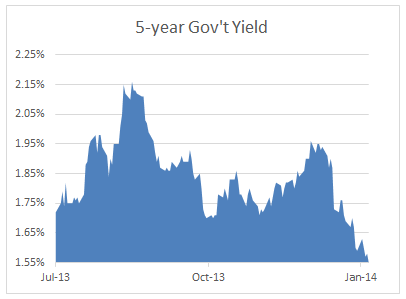 At 2.99%, five-year rates are just 0.64 percentage points above deep discount variables. That's a major drop since December when the fixed-variable spread was pushing one percentage point. (Click here for chart)
Variables have been getting more popular since the summer. But now we may see a rotation into fixed-rates again…in the near-term at least.
---

---