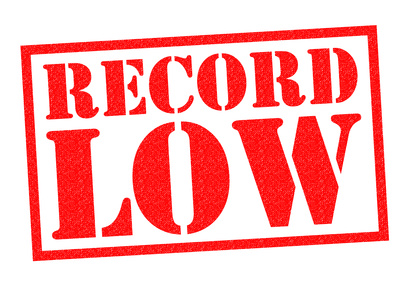 "Mortgage rates have bottomed."
That's what some economists were proclaiming last year. The market then did what the market likes to do, confound and humble those who try to predict it.
Earlier today, intelliMortgage (a brokerage related to this website) became the first mortgage provider in Canada, according to RateSpy.com records, with a five-year fixed rate under 2.00%. It's a rate that few would have expected at the turn of this decade. It's even below most variable rates.
Five-fixeds have now dropped almost 20 points from their 1981 high, and the bottom may still be below us. Two percent is a key psychological threshold and potentially more impactful than even the 3.00% level, which was breached in 2011. In fact, it may be the last marquis barrier that five-years break, barring the unthinkable: sub-1% rates.
Buck-ninety-nine 5-year fixed rates could have real implications for real estate. With roughly half of Canadian borrowers choosing five-year fixed mortgages, according to Mortgage Professionals Canada, sub-2% rates could draw a new crop of buyers out of the closet and into the housing market. But that'll take far more lenders at this level than just one. Moreover, this 1.99% rate is currently limited to insured mortgages over $250,000.
If you're waiting for the big banks to drop below 2.00% on 5-year money, we wouldn't hold our breath just yet. The majors are holding tight at 2.59% (advertised) and about 2.44% (discretionary). That's a long way to 1.99%, especially for banks trying to protect their profits from a flat yield curve and shrinking net interest margins.
---

---