Some quick hits on the mortgage/rate market (we'll update these throughout the day):
4:14 p.m. Update
Yields Soar: Canada's 5-year bond yield launched 13 bps today as investors sold everything that wasn't nailed down, including stocks and bonds, and rushed into cash. Rocketing bond yields are bullish for fixed mortgage rates and we're seeing more lenders, including banks, react by lifting fixed rates again today.
Spread's Narrow a Tad: On a positive note, most key credit (risk) spreads decreased slightly. Lenders are watching credit spreads like a hawk. They're a key element in many mortgage pricing models.
Oil devastation: Crude prices (WTI) crashed to a 17-year low of $21.25. Given the economic pain this will cause (lost investment, unemployment, corporate defaults, etc.), it's hard to fathom the BoC waiting much longer to cut rates again. The bond market is still pricing in another 50 bps in cuts.
12:25 p.m. Update
BoC on Credit Liquidity: "The plumbing is working," said Bank of Canada Governor Stephen Poloz at a press conference today, noting that the virus crisis is "temporary." But he added, "We honestly don't know what's coming our way." The Bank of Canada will assess the inflation impact of today's $82 billion of fiscal aid before deciding on the next rate cut. This suggests somewhat lower chances of an emergency rate cut before its April 15th meeting, but Poloz said he's not ruling it out.
CMB Spreads Narrow: The difference between the "risk-free" 5-year Canada Mortgage Bond (CMB) yield and the 5-year government bond yield has narrowed meaningfully since the Bank of Canada started buying CMBs this week. That's modestly good news for lenders, and by extension, fixed mortgage rates.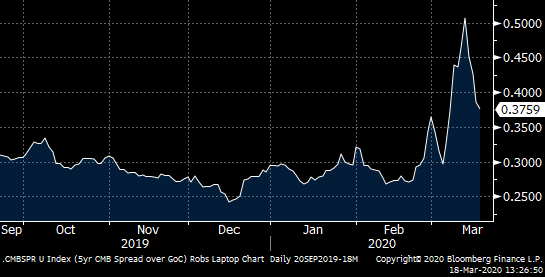 12:25 p.m. Update
HELOC Bargains: Given the fact Canadians may start tapping HELOCs in record numbers, it's astounding to see some lenders still offering HELOCs at a discount to prime rate. This will not continue. The latest HELOC rates.
11:50 a.m. Update
Government Commitment: The Finance Minister says he'll do "whatever it takes" to help the country cope with COVID-19's financial hit. Measures announced today include deferring tax payments "until after August 31, 2020."
11:18 a.m. Update
Gauging Fallout: A global recession is underway, say Goldman Sachs and Morgan Stanley. In a worst case scenario, JP Morgan estimates 60% of Canada's economy could be severely impacted by it. Additional Bank of Canada rate cuts will have little impact, but there is no reason for the overnight rate to not be near zero already. Odds are, it will happen soon. If the current trend in banks passing through BoC stimulus continues, banks should cut prime rate to 2.45%, or thereabouts, by next month.
Proactive Measures: Policy-makers are doing a tremendous job providing emergency liquidity to mortgage lenders. So far, it's working reasonably well. But, friction in the funding market is nonetheless forcing mortgage rates higher at most lenders.
10:19 a.m. Update
Unprecedented Move: Big banks plan to defer people's mortgage payments en masse up to six months, something that's virtually unheard of. The story. Default insurer CMHC will allow 6-month deferrals as well, on insured mortgages. "We are also exploring, with others, potential relief measures for those who cannot make payments on uninsured mortgages and renters," said Evan Siddall, president and CEO of CMHC (Source: CBC).
Variable Outlier: HSBC has bucked the trend today by not slashing its floating-rate discounts from prime rate. It lowered its variable specials as follows:
5yr variable (purchase/switch): 2.34% to 1.84%
5yr variable (refi): 2.44% to 1.94%
HSBC now leads the nation with the lowest insured and uninsured 5-year variable rates.
Oil Collapsing Again: WTI crude is down to $24 a barrel, further raising the probability the Bank of Canada will cut another 50 basis points by April 15 or before.

9:58 a.m. Update
Fixed Rates on the Rise: Amid higher risk/liquidity premiums in the funding market and yesterday's surge in bond yields, RBC has raised its "special" fixed mortgage rates by up to 40 bps:
1yr: 2.94% to 3.14%
2yr: 2.69% to 2.99%
3yr: 2.69% to 3.09%
4yr: 2.74% to 3.14%
5yr: 2.94% to 3.34%
7yr: 3.09% to 3.49%
RBC's variable mortgage rate remains at prime – 0% (2.95%), a multi-quarter high.
---

---