Spring is officially more than a month away, but in hot housing markets "spring" homebuying season has already begun. And it's shaping up to be a competitive one, especially with the just-announced stress test easing.
A recent survey from RE/MAX suggests that more than 6 in 10 real estate agents in major cities (62%) are seeing buyers being priced out of their markets. Yet, three quarters (75%) of agents claim their market is still "undervalued." (We'd love to see a stat on how often realtors admit prices are "overvalued," but that's another story.)
If you believe the real estate establishment (and many homebuyers will), prices in a majority of markets still have some climbing to do before they reach full potential.
Not included in that group of undervalued markets are Vancouver, Toronto and Mississauga, which (no shock) the RE/MAX survey found to be the least affordable big cities in the country—with average sale prices of $1,195,923, $883,520 and $760,005, respectively.
At the other end of the spectrum is Regina, with an average sale price of $301,473 in 2019, Winnipeg ($281,105) and Edmonton ($353,657). Homebuyers in those locales require just 12-13% of their income to service their mortgage, assuming 25% down (which many people don't have). Compare that to 40% and 58% of incomes required to cover mortgage costs for borrowers in Toronto and Vancouver, respectively, says RE/MAX.
"…The national housing market still has challenges to overcome, especially in centres like Toronto where demand is far outstripping supply, pushing prices up considerably as a result," says Christopher Alexander, Executive Vice President and Regional Director, RE/MAX of Ontario-Atlantic Canada. "We need to continue to push for an increase in housing supply for buyers and renters, but we have yet to see a comprehensive national housing strategy to help facilitate this shift." (He clearly doesn't put much stock in CMHC's National Housing Strategy.)
You have to wonder how long policy-makers need to hear this broken record before they take real action to improve supply in hot housing markets? And not just supply for low-income Canadians, but for middle-class working families too.
Toronto Prices. Set to Rise in 2020?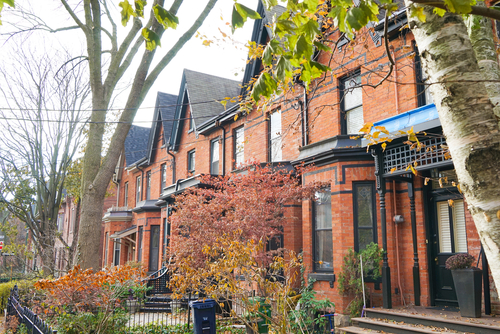 After taking a breather in 2018 and 2019, home prices in the Greater Toronto Area are continuing their journey higher.
"It
's looking more and more like early

–

2016 all over again for the Toronto housing market," wrote RBC Economics senior economist Robert Hogue in a recent research note. "This is not a good sign. Those were the days
when things started to heat up uncomfortably, propelling property values sky
–
high in the ensuing year."
In January, Toronto experienced its largest month-over-month home price increase since October 2017. On a year-over-year basis, prices jumped 12.3%, according to the Toronto Real Estate Board.
Other Stats of Note
Here are more homebuying and affordability trends from the RE/MAX survey:
Just 38% of those surveyed say the high price of real estate is one of the biggest obstacles preventing them from buying a home. Other challenges include:

Insufficient salary to save up the needed down payment (26%)
Fear of rising interest rates (17%)

According to a majority of RE/MAX brokers (56%), low or shrinking inventory is a bigger concern
Two in 10 Canadians plan to purchase a home, but just 4% expect to buy within the next year
Nearly half of Canadians believe government intervention, such as a (better) national housing strategy, would improve affordability across the country.

Again, CMHC's National Housing Strategy isn't getting much credit, nor will it with surging purchase prices and rents.

One quarter of Canadians without a mortgage currently say they have enough money for a down payment
---

---