Opps!…They…Did…It…Again.
For the third time in 11 years, the planet's monetary policy superpower has elevated America's key lending rate by 1/4 point. Now it's a question of how Canadian rates will react.
In and of itself, one highly anticipated U.S. rate hike is immaterial. It's the longer-term trend that's worth talking about.
On that note, the Fed projects its policy rate will end up near 3.00% (the so-called "neutral rate") by 2019—a full two points higher than today. Mind you, its forecasting record is as imperfect as my March Madness record.
Whether U.S. rates get to 3.00% is neither here nor there. With rate predictions you're either wrong or lucky, so we won't speculate. But if the Fed funds rate does pierce 3.00%, that doesn't mean Canadian rates have to.
We've got our own anxieties to worry about up here, not the least of which are vulnerability to oil prices and home values, overleveraged consumers, soft business investment and sluggish non-energy exports.
While we sort out those things, the Fed is telegraphing at least two more hikes in 2017.
Further out (2018 and 2019), the rate picture is far more opaque, especially in Canada. But here's an interesting factoid mentioned on RateSpy TV last week. One year after the Fed hikes rates, Canada's 5-year yield has actually fallen, on average.
That's utterly unscientific (we only reviewed the last 20 Fed hikes), but it is a reminder that rates are cyclical.
Moreover, not only have rate increase cycles proven notoriously short over the past three decades, but come the next recession, rates are headed right back near zero.
So don't read too much into what Yellen & co. are up to down south. Simply be aware that in the Trumpinator's growth-obsessed economy, the path of least resistance for U.S. rates should be up. And if historical correlations persist, Canadian rates could be dragged along for some of that ride.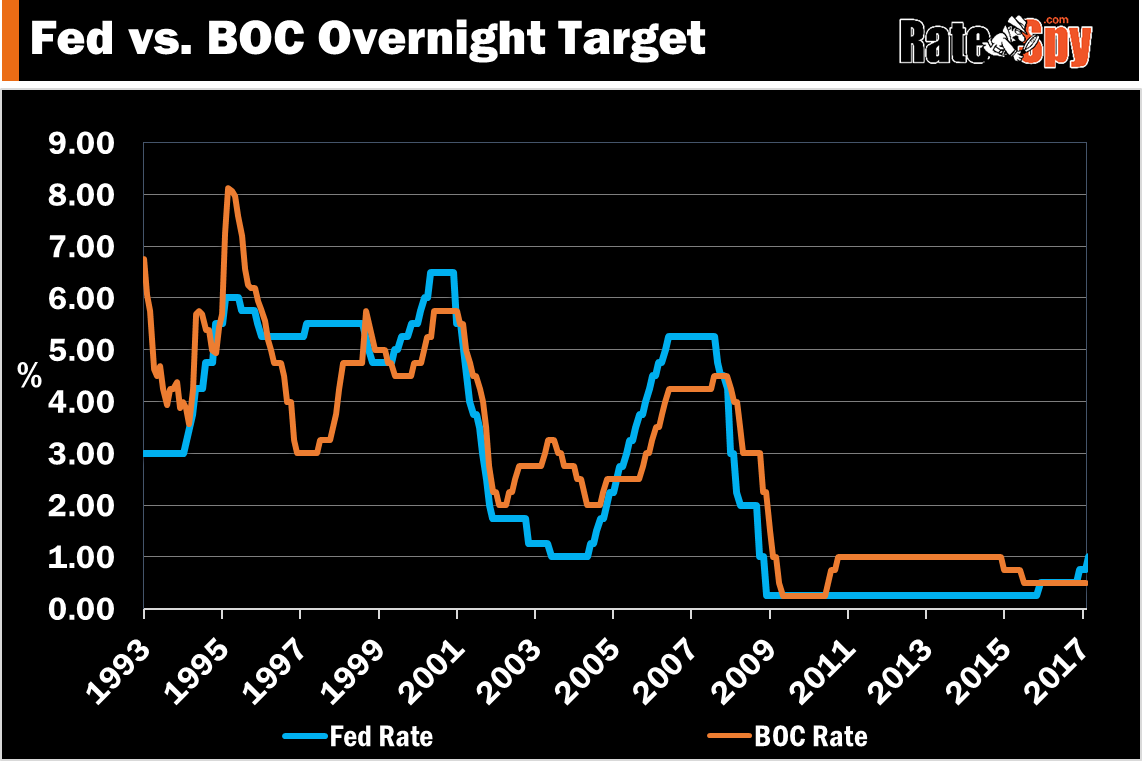 But fret not. The ride won't be a painful four-year ordeal, a la the late 1970s. Secular trends and monetary policy have anchored core inflation below the BoC's 3% tolerance since the dawn of Canada's inflation targeting regime (circa early '90s). A sustained surge above that limit is almost unfathomable, and the bond market agrees. Real return bond prices imply that total inflation will actually average below where it's stood over the prior five years, according to a recent CIBC report.
So if you're a mortgage shopper keeping score, it breaks down like this.
For financially secure borrowers and/or those planning changes to their mortgage down the road, this week's Fed hike is no reason to rush to your lender and lock down for five long years.
It is, however, a reminder to set aside more of your future paycheques for interest expense…just in case.
If financial security is more of a dream than reality in your world, you really have no business in a floating rate, not at this point in the rate cycle. Go long and catch a sub-2.50% 5-year fixed rate with a fair penalty, decent refinance options and good portability. Then you can worry about more important things than your rate…until 2022.
---