Any creditworthy mortgage shopper is practically guaranteed to get a better rate today than they could have at the start of the year.
Fixed mortgage rates have been on a ski slope this year, sliding to two-year lows this month.
If you're wondering how far they've tumbled, here's a look. These were the best widely available 5-year fixed rates, as of January 1 and yesterday: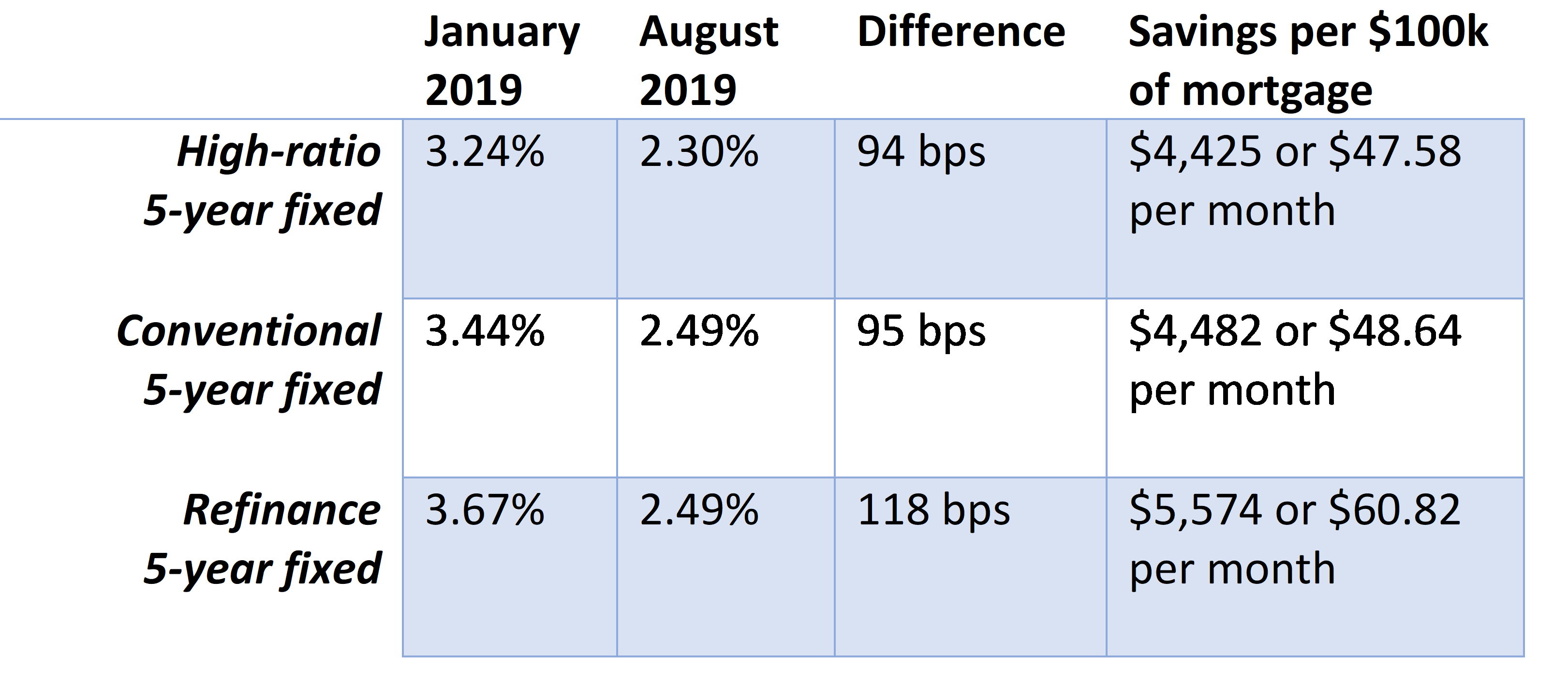 Notice the material interest cost savings of today's lower rates. That savings has a very real and positive economic impact, boosting aggregate consumption by tens of billions of dollars over time.
Mortgage Rates Falling More Than Yields
Plummeting bond yields almost always take fixed mortgage rates down with them. But these days, fixed rates are dipping faster than yields.
Since January 1, the 5-year bond yield has dropped 71 bps to a two-and-a-half-year low of 1.18% (as of Wednesday). But 5-year fixed rates are down 15-39 bps more than that, depending on the mortgage type.
Much of that is lenders playing catch-up since they took so long to cut fixed rates after the November yield slide. Some of it is lenders getting more anxious to meet targets as fiscal year-ends approach.
How Low Can They Go?
Canadian rates are following U.S. yields lower as trade wars escalate economic uncertainty. Below the border, the U.S. 30-year Treasury sunk to a record low of 1.90% on Wednesday, while European benchmarks also fell to levels never seen before, according to Bloomberg.
At the moment, few can see the bottom. "Anyone who is handing you a hard forecast in that scenario is throwing darts," Wells Fargo analyst Michael Schumacher told CNBC.
Meanwhile, that oft-mentioned recession indicator called the yield curve just keeps on inverting. Long-term rates are now further below short-term rates than they have been in a dozen years. But we really need to see stumbling consumer confidence, retail sales, stock prices and/or oil prices to presage another major nosedive in yields. Albeit, our 5-year bond could easily fall below 1.00% without such confirmation. That would push Canada's lowest 5-year fixed rates amazingly close to 2%, a number some pundits in 2016 suggested we might not see again.
As for traders, they're pricing in another U.S. Federal Reserve cut next month and 100 bps of cuts in 2020. As noted here before, if the Fed lowers its key rate 50 more bps, the Bank of Canada will be widely expected to embark on its own rate cutting cycle. If the Fed cuts just 25 bps from here, the timing of the next BoC cut is more of a toss-up.
---

---