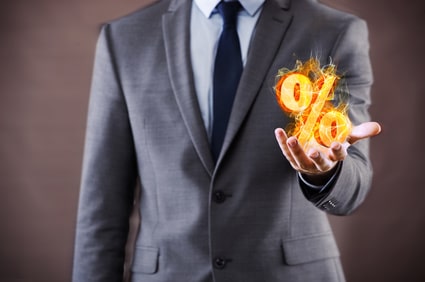 We rarely comment on GIC deals but there's an opportunity out there that can't be ignored.
GICs are not for most people, but for some conservative investors they have their place. For GIC lovers who crave extra yield (and who doesn't), Oaken Financial's current promo seems like a gift from the gods.
Oaken Financial is owned by Home Capital, the mortgage company that was on the brink of failure just weeks ago.
Since then, the (mostly) new management has started righting the ship and, much more importantly, superhero Warren Buffett has come to its rescue. Buffett injected not only capital, but his bulletproof credibility—which will help the company line up cheaper funding sources and grow its business again.
It now appears very likely that Home Capital will survive, even if under a different name or owner.
The point is, Home has almost given away the farm on its GIC rates to draw investor interest. Its 3.25% 5-year GIC rate is simply unmatched at 100+ basis points above the competition. So is its one-year rate at 2.75% (a better bet if you think rates are going up). These rates will not last.
Tip: As of this writing, we hear investors can get an extra 0.25% by entering promo code OAKREF5454 in the comments section at the end of Oaken's application. This is not applicable if you use a deposit broker.
Could Home Capital and Oaken still fail? Yes, potentially.
Are the odds of failure high? Not anymore.
This is an opportunity where you have to read between the ominous headlines and be logical. If Home Capital goes under, you get your money back (up to $100,000 per account type under the same name…more details) from Canada Deposit Insurance Corporation (CDIC). According to CDIC spokesperson Brad Evenson, CDIC typically makes investors whole in less than a week.
"Once the Superintendent (of OSFI) gives an opinion of non-viability [for the financial institution]…CDIC pays out immediately based on the bank's records," he says. "Cheques would be going out for most accounts within 2-3 days."
Tip #2: CDIC insurance covers principal plus interest. Those who want to leave no room for error should invest no more than about $96,600 to $97,000 per account/institution.
The last CDIC-insured institution failed over 20 years ago. Regulators, management, Home's advisors RBC and BMO, and maybe even Buffett himself, will do everything in their power to ensure Home Capital is not next. Oaken's GICs are a bet worth making.
---
Note: This is not investment advice. Consult a licensed investment advisor before acting on anything you read online. RateSpy.com is not affiliated with this company, nor does it get compensated in any way for this story or for investment referrals. This is general information only.
---

---