—The Mortgage Report: Aug. 19—
Properly's "Backup Offer" for Home Sellers
Someday, the majority of Canadian home sellers will get a quote from an iBuyer. What's an iBuyer? It's a company that offers you roughly 7% less than fair market value to buy your home…fast. Why would someone take 7% less? Because some people place a high value on speed, certainty and convenience. That's what a company like Properly aims to offer.
The firm just launched an automated service that gives Torontonians a backup offer before they list their home for sale. That lets them buy their next home without having to worry that their old home won't sell. CEO Anshul Ruparell says, "The standard view is that you should sell before you buy or risk being left with two mortgages to carry. With Properly, you have the freedom to buy the home you love as soon as it hits the market." And Properly can wait to list it until after you move out. Then, if your home doesn't sell in 90 days, Properly will buy it at the agreed-on price. The company even covers your existing home's mortgage payments while it's waiting to sell. The catch, you have to list the property with Properly and can't choose your own realtor. A 5% commission is deducted from sale proceeds when your home sells, whether it sells on the open market or it's bought by (sold to) Properly.
Among its criteria for home purchases: no detached homes over $1.5 million, no condos over $1 million, no 20+ year-old buildings. The company operates in only a handful of markets currently, mainly Toronto, Ottawa and Calgary, but has broader nationwide aspirations. "We plan to be in every major Ontario city by the end of 2022," says Ruparell.
As for its offers, Ruparell says Properly values properties using its proprietary automated valuation system. Its median offer has an absolute percentage deviation from the ultimate selling price of just 1%, he claims, adding that standard appraisers are "closer to 5%." The company has partnered with CIBC for mortgage financing but says all major banks finance its customers.
The Spy's take: For a segment of home sellers, iBuyers like Properly and Sweetly are the future. They're a legit option for those who value certainty over the maximum possible sale price. And with Properly, you're not locked in if you decide to end the listing for some reason. That said, if you're not in a rush and can carry two mortgages (if needed), you may net a bit more money by listing with a successful, experienced local realtor.
The End of Mortgage Deferrals
The "mortgage deferral cliff" might not be as sheer as first thought. Rates.ca story…
Surging Home Prices No Fluke
All 20 housing markets tracked by CREA showed month-over-month price increases in July. And check out nationwide resale inventory, at a 16-year low.
Happy Homebuilders
So much for a recession. As mortgage rates drop to record lows, homebuilders haven't been this optimistic since 1998, reports Bloomberg. They aren't thrilled by lumber prices, though. Housing and reno demand is pushing lumber prices vertical. Lumber closed at another record high Wednesday. That's not exactly helping the high home prices problem. It's adding up to $10,000 to the price of a typical new single-family home.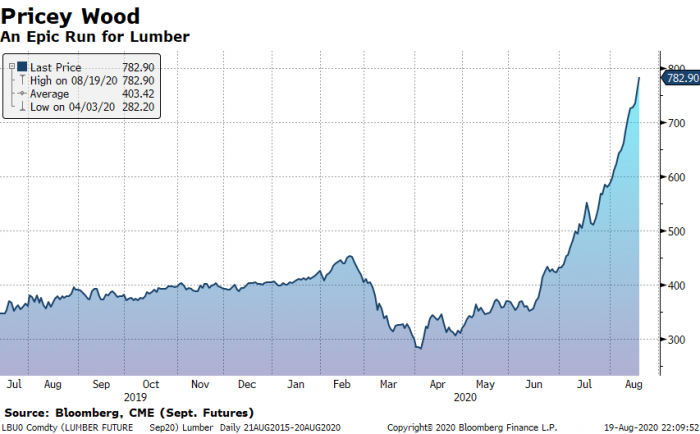 TFSA or RRSP
Housing's Been Expensive a Long Time
"A year ago, housing prices were sky high — it cost so much to buy a house in Vancouver that most people simply couldn't afford it."—CBC's Knowlton Nash on The National, circa 1982. Of course, what goes up, can come down. That story from CBC…
---

---