"Lower for longer" has become the mantra in the rate market. But mantras don't last forever.
Trump is a rate market shock. He has single-handedly transformed how investors perceive North American growth prospects, inflation and default risk in the U.S. bond market. That's driven Canada's bellwether 5-year bond yield near one-year highs.
Combine this with Ottawa's regulatory changes, and suddenly today's record-low 5-year fixed rates look like a steal (more on that).
But if you want one, get em' while they're hot. Odds are this is no flash-in-the-pan spike in yields. Over the last week, Canada's 5-year yield—which steers fixed mortgage rates—has surged the most since mid-2013. That's when the U.S. Federal Reserve announced it would slow its U.S. bond buying (i.e., "taper" quantitative easing).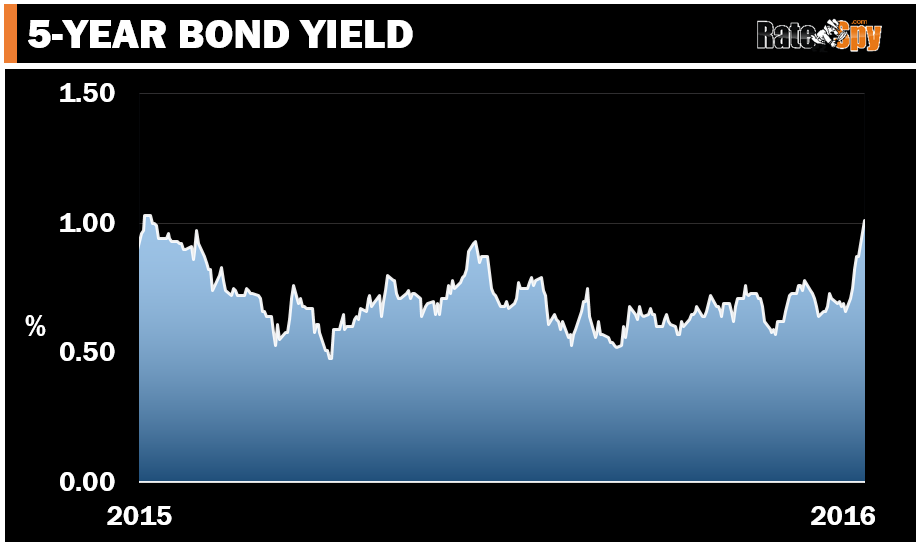 This "taper tantrum," as it was coined at the time, caused our 5-year yield to rocket 70+ basis points in just three short months during the summer of 2013.
The start of this current move looks eerily similar.
What to Do
A few lenders have already announced higher 5-year fixed rates (up to 15+ bps), effective at midnight tonight. More will follow.
If you're mortgage shopping and have:
A big mortgage relative to your income
A long remaining amortization (e.g., 15-20+ years)
Aversion to risk
A need to refinance and consolidate debt, and/or
Less sound finances (e.g., a higher debt load or less stable employment)…
…you cannot go wrong with a deep discounted 5-year fixed rate, especially if you can find one near 2.14% or less. Variables and short-term rates simply don't give you enough protection for the potential rate risk they now pose.
If you're mortgage shopping and have:
A small mortgage relative to your income
A short remaining amortization
Risk tolerance
A short mortgage holding timeframe, and/or
Strong finances…
…there's still value in the 1-year fixed and 2-year fixed space. You'll save at least 1/3 of a point up front versus a 5-year fixed and have more flexibility in the event rates drift back down.
If you already have a short term or variable-rate mortgage…
…do not lock in unless you know you can't handle (the thought of, or the actuality of) a 10%+ hike in your monthly interest costs. Certain disinflationary supertrends like demographics, technology, high debt loads, etc., will absolutely limit how much rates can rise over the long-run.
Moreover, most lenders overcharge you when you convert from a variable to fixed. I just saw one bank quote 2.60% to a well-qualified client who wanted to lock in her variable. They might as well have reached into her bank account and stolen $5,000 (the extra interest she'll pay versus typical 5-year rates).
Also keep in mind that Trump's U.S. stimulus won't benefit Canada near-term. So if the Bank of Canada did take variable rates higher, it likely wouldn't happen for several months, if not quarters.
And then there are the wild cards. Unforeseen trade barriers, a global crisis (and no, not nuclear war, you anti-Trumpians) or plunging oil prices could be deflationary for Canada, and for Canadian rates. But these are potential catalysts whereas Trump's economic growth is a known catalyst. That's why now is not the time to gamble on variable or short-term rates…for most new mortgagors.
---

---