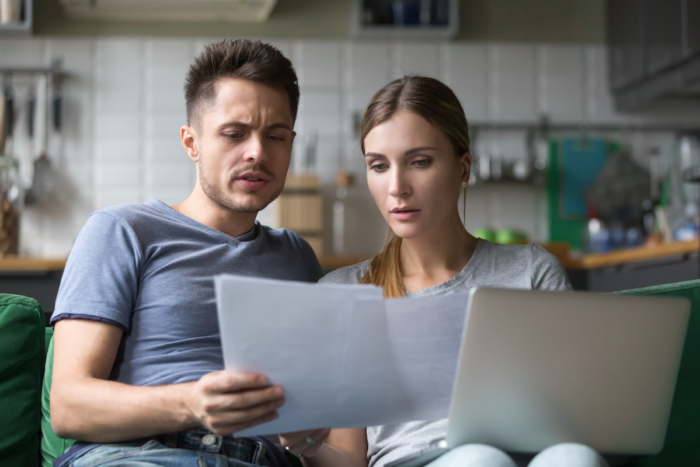 Despite record-low short-term interest rates, most banks are offering junk 1-, 2- and 3-year rates on uninsured mortgages through the broker channel.
We're seeing 5-year variable pricing as low as 1.45% or less at major banks. Yet, on a one-year fixed, for example, they quote mortgage brokers over 2.40%. That's well above the discretionary rates bank customers are reporting to us. Those preferential rates are being made available via banks' proprietary sales forces. (Keep in mind, we're talking about non-default-insured rates here. More on insured rates below.)
Banks obviously have a reason for wanting to lock in broker clients to longer terms.

One reason is to avoid churn when these mortgages mature. In other words, they're worried brokers will originate the loan, collect their finders' fee and take the client elsewhere at maturity. A lower probability of renewal revenue makes shorter terms less appealing to banks.
A related reason is the compensation banks must pay brokers to originate such loans. Shorter terms leave less time for banks to amortize those commissions.

The moral of the story: if you want a 1- to 3-year fixed deal on an uninsured mortgage, don't go looking to brokers. But if you need a short term on a high-ratio or insurable owner-occupied mortgage, brokers virtually cannot be beat.
Fed: Rate Levels Tied to Vaccine
The path for North American mortgage rates rests largely on ""progress on vaccinations," suggested Fed Chair Jerome Powell today. "There's nothing more important to the economy now than getting vaccinated."
Recovery remains more of a second-half 2021 story, he suggested, noting "The risks are in the near term, frankly."
Inflation is a distant threat, he said, but when it finally comes time for the Fed to hike rates, it'll telegraph its plans in advance. "Nobody will be surprised when the time comes," Powell told reporters.
Lenders Edgy About Condo Risk
Condo inventories in some markets have surged with people exiting big cities and rents collapsing. We hear from lenders that they're particularly nervous about areas like Toronto's CityPlace and Liberty Village, where listings have exploded and rental investors (often deemed "weaker hands") are plentiful. In many cases, it's resulting in borrowers getting scaled-back loan amounts or declined altogether.
This chart below from HouseSigma shows a $100,000+ selloff in the average Toronto condo, from the top. That's an equity loss in the tens of thousands for average condo owners who purchased in the last couple of years. Those who were leveraging their condo equity to buy more condos are especially feeling the heat.
That said, Toronto's condo descent is slowing somewhat for now. Buy-the-dippers are taking advantage of the weakness ahead of an expected economic and immigration rebound this year.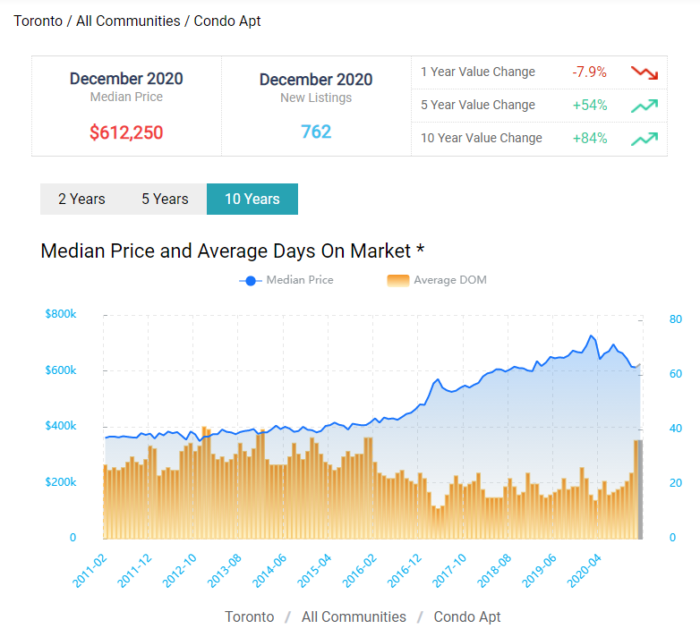 This & That
Since the global financial crisis, average Canadian home prices have become 46% more expensive than U.S. home prices, estimates BMO (as of December 2020). It concludes that Canadians make a "choice" to spend more on housing than those in other countries. Report
"…In the past 12 months, mortgage debt growth has perked back up (+7.5% y/y, the fastest in more than nine years)," BMO says.
Whaddya know: If you don't have a job you're more likely to defer your mortgage payments. CMHC Report
RBC has lowered three fixed-rate "specials":

4yr: 2.19% to 2.09%
5yr: 2.32% to 2.22%
7yr: 3.19% to 3.09%

Here are two non-traditional ways to come up with a deposit on a home purchase.
Quotable
"If you look at the number of mortgage deferrals that are left in the system, it's a small fraction of what it was. No smoke, no [deferral] cliff…"—CIBC economist, Ben Tal via the Globe and Mail
---

---