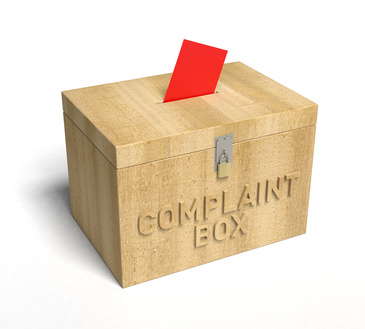 We've all heard this line before: "A mortgage is probably the largest financial commitment you'll make in your lifetime."
So what happens when the process goes sour? Who's got your back?
People run into mortgage service problems all the time. The three most common grievances relate to penalties, portability caveats and pre-approvals. (Source: OBSI's 2016 annual report)
Fortunately, several organizations across the country are equipped to handle mortgage-related disputes, whether they be between you and a mortgage broker, a bank or another financial institution.
Complaints Against a Mortgage Broker
About 43% of mortgage originations are handled by Canada's 23,000 licensed mortgage brokers. Most go off without a hitch and survey after survey shows that clients are pleased with broker services overall. (The latest poll from CMHC found that 77% of homebuyers were satisfied with their brokers in 2016.)
But disputes are nonetheless inevitable. And since each province has its own mortgage broker regulations, you need to contact the regulator in your province if you have a problem. Here they are:
Step 1: Discuss your problem directly with the mortgage broker to see if you can arrive at a resolution. This is often the fastest way to resolve a complaint.Here's the general process for initiating a complaint against a mortgage broker:
Step 2: If you're not satisfied that your concerns are being addressed, the Financial Services Commission of Ontario recommends writing to your mortgage brokerage's administrator (a.k.a. "broker of record") asking for their final position on the matter.
Step 3: If the complaint still cannot be resolved within a reasonable period of time, or if you feel that the provincial law governing mortgage brokers has been broken, contact the respective regulator above. Information on how to file a complaint can be found on their websites.
Complaints Against a Bank
The Financial Consumer Agency of Canada (FCAC) oversees federally regulated financial institutions, which includes all banks and trust companies.
How to file a complaint against your financial institution
Step 1: By law, all banks, retail associations and federal trust, loan and insurance companies must have a complaint-handling process in place for consumers. In the event of an issue with your financial institution, your first step should be to try and resolve it directly with the manager or customer service rep at your local branch.
Step 2: If your complaint cannot be resolved at the branch or local level, ask for it to then be referred to a senior staff member or an internal ombudsman. The bank is required to do this.
Step 3: If the complaint still hasn't been resolved to your satisfaction, you can then elevate the complaint to an external complaints body (ECB), a third-party mediator that will work to resolve your issue to completion. All banks and federal credit unions are required to have a complaint-handling process in place for consumers, and this includes belonging to an ECB of their choice. Complaints against RBC and TD are handled by ADR Chambers Banking Ombuds Office, while complaints to most of the remaining financial institutions are handled by the Ombudsman for Banking Services and Investments.
Do Your Due Diligence
No one wants to go through the time and effort of pursuing a complaint. The best way to avoid this whole headache is to protect yourself from the start. By doing some research and due diligence, you lower the chances of problems down the road.
Ask the Right Questions of Your Mortgage Advisor
Most mortgage advisors have your best financial interest at heart. But you should still be prepared to question them on their qualifications and services.
Questions to ask your mortgage broker:
Are they licensed to work as a mortgage broker?

You can verify this from the provincial regulators listed above. Most have search pages where you can look up brokers, brokerages and mortgage administrators to confirm that they are licensed.

Does the broker make you sign a service contract?

If so, read it over carefully and ensure you understand it, especially any exclusivity agreements or fees.

Do they charge a fee?

If so, how much and when does it come into effect?

How they will be compensated?

On most residential mortgages, brokers/brokerages are compensated directly by the mortgage lender and they don't charge extra fees.

How many lenders have they themselves submitted applications to in the last year?

Anything less than 8-9 can mean that the broker doesn't do much business (a red flag) or doesn't shop enough lenders.
Brokers who send more than 50% of their business to one lender are essentially a salesperson for that one lender, so their objectivity may be an issue.

How long have they been in business?

Experience is crucial. Mistakes at closing or bad recommendations can cost you time and stress.
Steer clear of anyone who hasn't been in business at least a year and hasn't personally closed at least 30 mortgages.
Questions to ask your banker or credit union rep:
How long have you been in business?
Do you make a bigger commission if I pay a higher rate (compared to your "floor rate")?
How do your penalty calculation, portability, blend and increase policies compare to major broker lenders like First National or MCAP?
It's worth every minute of your time to educate yourself before committing to a mortgage provider. The more questions you ask of your mortgage broker or lender upfront, the less likely you'll ever need to worry about complaint resolution.
---

---