Scotiabank's out with a new prediction. The nation's #3 mortgage lender says rising rates will cause average mortgage carrying costs for new buyers to jump 8% in 2018 and another 4% in 2019 (assuming stable home prices).
"Further rule changes, including more stringent stress tests for uninsured mortgages…would exert additional drag on new buyers," the bank noted.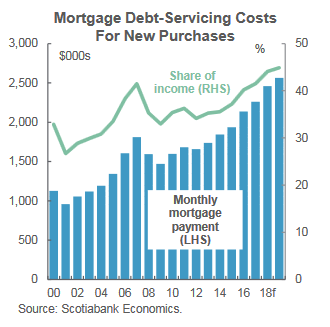 Existing mortgage holders, whom the bank says comprise about one third of homeowners, are more isolated from rising interest rates since a majority are locked into 5-year fixed rates.
"As a result, rising borrowing costs feed through only gradually to mortgage holders," the bank's report said. "In fact, a majority of fixed-rate mortgages coming due in the near term will roll over at interest rates comparable to, or lower, than those that have been paid since origination."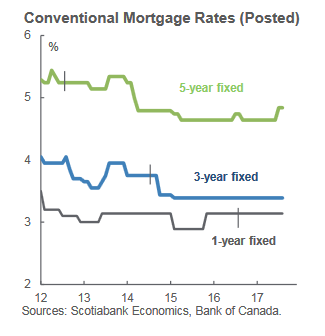 Most existing homeowners also have lots of home equity, the bank added. If need be, they'd be in a position to extend their amortization in order to reduce monthly servicing costs.
Mind you, if rates went orbital (e.g., rocketed 200+ basis points higher), at least 1 in 6 mortgagors would go cashflow negative each month—if past surveys are a guide. That sort of rate inflation would require almost 20% more income to service the same size mortgage. That's when you'd see a perceptible increase in "For Sale" signs—despite the boost to employment that would likely coincide with rising rates.
---

---