The chart below shows the average best rates for each mortgage term on RateSpy.com.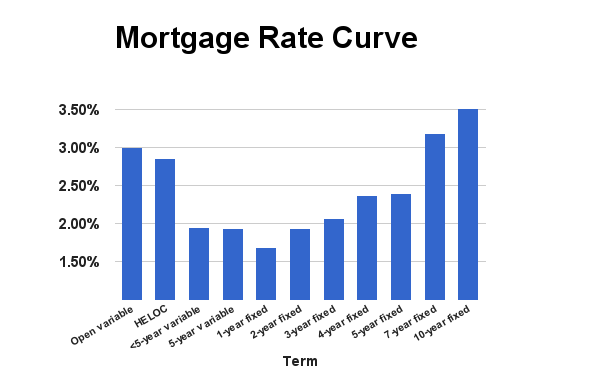 This graph provides a sense of how much of a rate premium you'll pay for the security of a longer-term and/or fixed rate.
Key Takeaways
The difference (spread) between 5-year fixed and variable rates has shrunk in recent weeks to roughly 0.39 percentage points. That's far less than the long-term average, which is about 1.25.
When the fixed-variable spread gets narrow, it means people are paying less for the security of a long-term fixed rate. That increases the appeal of a 5-year fixed (Canada's most popular term), especially for risk-averse borrowers.
Well-qualified homeowners willing to ride out potential rate hikes will find the best upfront savings in a 1-year fixed, which range from 1.79% to 1.99%+ (on RateSpy.com) depending on features and restrictions.
A few providers are still advertising 1.49% effective rates on one-year fixed terms, but those specials require a line of credit and potential legal fees to set up. They also include cash back as part of that 1.49% rate, in lieu of an actual rate discount (which can actually put you further ahead if you use the cash to make an immediate prepayment).
People hoping to diversify rate risk might want to consider a hybrid — 50% fixed and 50% variable. The lowest rates on hybrids (a.k.a., combination mortgages) are currently 2.36-2.50%. A hybrid lets you participate in rock-bottom rates while still providing partial protection against rising interest costs.
---

---