The chart below shows the average best rates for each mortgage term on RateSpy.com. It provides a good sense of rate premium you'll pay for the security of a fixed rate and/or longer term.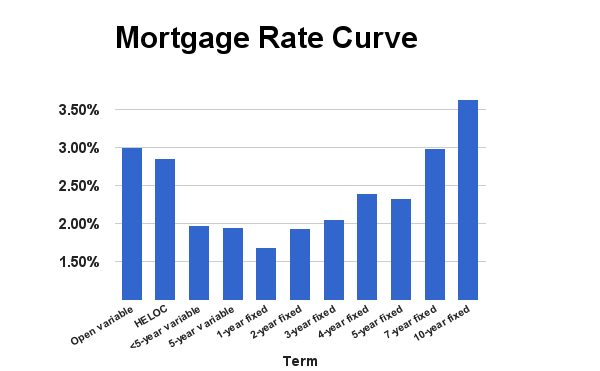 Trends from the last 30 days
The 5-year fixed is the most-chosen term in Canada. Its uptake is slowly declining, however, as more Canadians anticipate that low rates will stick around long-term. Restricted 5-year rates currently start at 2.33% to 2.44%.
The average difference ("spread") between 5-year fixed and variable rates has widened out. It's now at 0.40 percentage points, but still far below the 1.25 percentage point long-term average.
Well-qualified homeowners willing to ride out potential rate hikes will find the best upfront savings in 1-year fixed rates, currently ranging from 1.49% (but only if you get a line of credit; legal fees apply) to 1.99%. Remember, however, that most of the lowest 1-year rates entail switching costs (legal fees and/or appraisal costs), so confirm these fees with your rate provider.
For many, 3-year rates are a happy compromise at 2.09% and up. They guarantee borrowers a 0.40 %-point savings per year for three years versus most 5-year fixed rates.
Ten-year rates are still a bad value for most. They start at 3.64% currently, unless you live in Ontario or Quebec where brokers are selling them for as little as 3.34% on jumbo-sized mortgages.
Hybrid mortgages (i.e., half fixed and half variable) have fallen slightly to 2.34-2.50%. A hybrid provides outstanding interest rate diversification. You can participate in rock-bottom rates (maybe even a Bank of Canada rate cut) while still enjoying partial protection against rising interest costs.
---

---