Lenders' funding costs in the fixed-rate market have been trending up for two weeks. Yet still, we've seen a small dip in the best 5-year fixed rates. Variable rates have been mostly unchanged.
For risk-tolerant borrowers:
2-year terms under 2.00% provide an excellent combination of refinance flexibility and up-front rate savings. They're also appealing for those who want to enjoy today's historically low rates and then lock into something long-term thereafter.
You'll also find good value in 3-year variable terms. That's because most of the best 5-year variable rates have some sort of restrictions or higher penalties. Many folks shy away from 3-year variables, believing that a 5-year term is "safer." In reality, if you plan to roll into another variable rate, the discounts can go either way by the time you renew a 3-year term. If those discounts shrink, you can always look at a cheap 1- or 2-year fixed instead. In any case, avoiding large penalties and refinance constraints can easily be enough justification to consider a shorter term.
For more conservative mortgage shoppers:
Have a look at 5-year fixed rates, which are now as low as 2.29% to 2.39% depending on your down payment size, closing date and tolerance for restrictions (i.e., higher penalties or refinance limitations).
The chart below shows the average best rates for each mortgage term on RateSpy.com. It paints a good picture of rate premium you'll pay for the security of a fixed rate and/or longer term.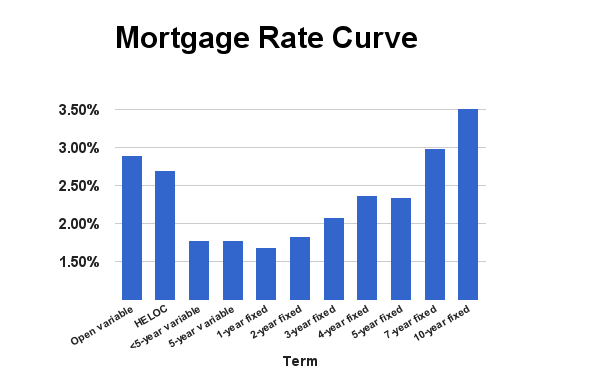 Other trends from the last 30 days
The average difference ("spread") between 5-year fixed and variable rates remained steady at 0.53%. That's well below its long-term average of 1.25 percentage points. This means that people are getting the security of a long-term fixed rate at an unusually low relative cost. It also means that the market may be expecting ultra-low rates for years to come.
Ten-year rates have been drifting higher despite downtrending 10-year bond yields. That makes them even more unappealing to all but the most risk averse borrowers.
Hybrid mortgages (i.e., half fixed and half variable) have dropped to as low as 2.21% for 30-day closings. There are few better options for somewhat conservative borrowers who still want exposure to potentially lower rates.
---

---