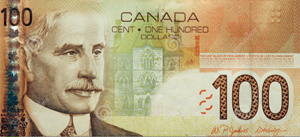 Got a hot rate tip? The Spy buys rate Intel.
The Top 2 rate tips of the month earn a crisp C-note!
Here's the fine print. The rate must be:
A rate that is at least 5 basis points lower than the lowest rate currently advertised by RateSpy.com for that term
A current rate offered by a lender (not a broker) and widely available to any qualified homeowner.
Publicly verifiable (i.e., it must appear on the lender's website or in a mass media advertisement)
Emailed to [email protected] before any similar reports, with the subject line "Rate Tip."
The $100 is paid via PayPal or interact e-transfer within one business day from RateSpy's verification of the rate. In a case of multiple submissions, the bounty goes to the two tips having the biggest discounts from RateSpy's next best rates (for those respective terms).
Please note, the Spy requires time to update new rates and usually catches them all. As such, this offer does not apply to rates that have changed in the six business hours preceding email notification to us.
We hope to keep this offer live indefinitely but we're required to note that it may end at any time, without notice.
The Spy thanks you for your service to country and fellow rate shoppers!
---

---