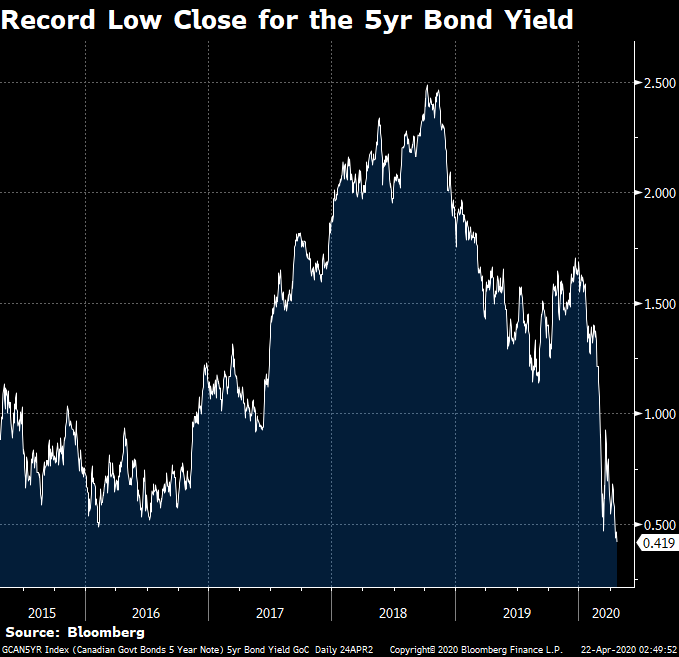 Never before has our government been able to borrow 5-year money so cheaply.
With oil in crisis mode, Canada's benchmark 5-year bond closed at a record low yield of 0.419% on Thursday, according to Bloomberg.
Bond yields remain a driving force for fixed rates, even with all the risk and volatility in the market. The reason: numerous other mortgage benchmarks are linked to government yields, including swap rates, Canada Mortgage Bonds, covered bonds and other mortgage-backed securities.
It's no surprise then that fixed mortgage rates are descending once again. Big bank 5-year fixed rates are down 1/4 point in the past three weeks to 2.79% or less. The lowest rates for default-insured mortgages are back in the 2.20% range in some provinces. By comparison, the cheapest variables (also for insured mortgages) are just below 2%.
With economic fundamentals (unemployment, consumer spending, business investment, exports, oil prices, etc.) all in the dumpster, there's a good chance yields could venture further into uncharted territory. Some think Canada's 5-year yield could even join France, Germany, Sweden, Netherlands, Switzerland and Japan and go negative this year.
In the meantime, lenders are enjoying healthy revenue margins on fixed mortgage rates. So even if yields stay flat-ish, fixed rates could drift lower.
---

---