—The Mortgage Report: Weekend Edition—
Some commentators proclaim that home "prices can only go up," but HouseSigma's Market Temperature gauge shows it's not peaches and cream everywhere. Market Temperature gauges the number of condos sold versus the number of active condo listings (inventory). Month-to-date, it's plunged to the lowest level in HouseSigma's records. If we close October at these levels and it's confirmed by price drops, we might be entering the worst Toronto condo market in over a decade.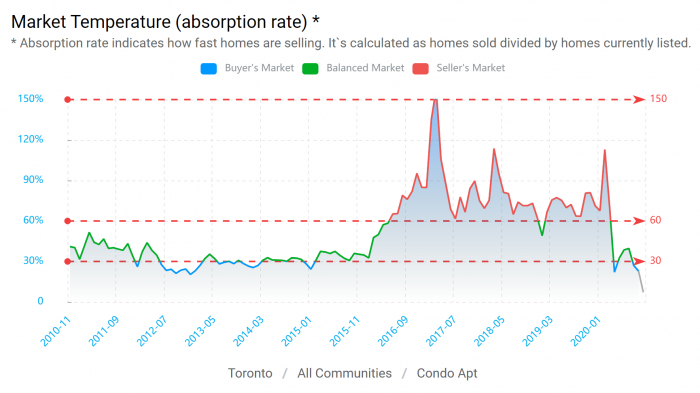 Mortgage fallout is likely if the condo supply/demand imbalance gets much worse.

For one thing, softening appraisals will make 80% loan-to-value condo refinances less viable in Toronto. The majority of condo borrowers who refinance need the full 80% of their property value.
For another, we can expect more lender scrutiny on smaller units. One prime lender we spoke with this week, on condition of anonymity, is considering a temporary moratorium on financing Toronto condos under 500 square feet.
Surging Prices Means Surging Down Payments
Canada's national average home price broke $600,000 for the first time ever in September. The higher prices go, the longer buyers must save for a down payment.
If you're interested in buying Canada's "average home," the minimum down payment has risen from $24,739 in May to $35,421 today.
Assuming no other resources, someone earning $4,000 a month take-home pay and saving 10% would have to scrimp two years longer to assemble this minimum down payment.
If early-October price performance is any indication, it may not get easier near-term. National measures of single-family home prices seem poised to make another record high this month.
A Reverse Mortgage Without Penalty
HomEquity Bank has a new Open reverse mortgage priced at 6.45%. It's the only fully open reverse mortgage in Canada.
"CHIP Open" has:

No required payments
No prepayment penalties
An option to convert to a regular discounted CHIP anytime.
A $2,995 setup fee

That fee is a fair bit higher than the normal CHIP reverse mortgage setup cost of $1,795. But HomeEquity says if you repay a CHIP reverse mortgage within the first three years, you're better off in this Open product, despite its higher rate and fee. That's based on a $200,000 loan amount.
Customers who might find CHIP Open useful include "somebody who is thinking of selling their home in the next year or two," says Yvonne Ziomecki, Chief Marketing Officer at HomeEquity. Or, "people who have debt and have had their income impacted by COVID."
The Spy's take: It's a decent product in theory, but the overall borrowing cost is steep. Compare it to a one-year Equitable Bank reverse mortgage at 3.79%, which has just a 3-months' interest penalty and cheaper fees. Albeit, HomeEquity Bank offers significantly higher loan amounts, and that's the #1 request of reverse mortgage borrowers, it says. Moreover, HomeEquity lends in more places than Equitable.
Almost 3 in 10 Expect Negative Rates
Will the @bankofcanada take interest rates below zero before the end of 2022?

( For after you vote → https://t.co/3jKZaJCxX3 )

— RateSpy.com ?? (@RateSpy) October 11, 2020
The Chance of a Fractional BoC Cut
Of all the interest rate commentators in Canada, one of the sharpest is CIBC's Ian Pollick. In one of his recent reports, he wrote, "there is an obvious risk that a deeper slowdown or more protracted recovery could raise bets for a non-standard-sized cut from the BoC."
Such a move is already being contemplated in Australia, which shares many similarities with Canada economically. Like the BoC, Australia's central bank (the "RBA") has a 0.25% key lending rate. There's speculation the RBA may cut it next month by 15 bps instead of the typical 25 bps.
Central bankers often take cues from one another. So, while negative rates may not visit Canada in this rate cycle, there's still a chance for lower rates if the recovery falters.
No More CMB Support
The Bank of Canada says it will stop buying Canada Mortgage Bonds (CMBs) effective October 26. Its emergency support is no longer needed to keep the mortgage market functioning smoothly. In fact, lenders have only been using about $70 to $190 million per week of the BoC's $500 million capacity since August. The last time lenders fully utilized it was April.
Impact on the mortgage rate market should be minimal.
Tough Times in Oil Country
The percentage of mortgage payments being deferred in Calgary/Edmonton is double that of Ontario and Quebec. With those deferrals coming to an end and Alberta unemployment three points above the national average, Alberta real estate listings could pop over the next 1-2 quarters.
Quotable
"…It was previously unheard of to have mortgage growth gathering speed in a recession."—BMO Economics
---

---