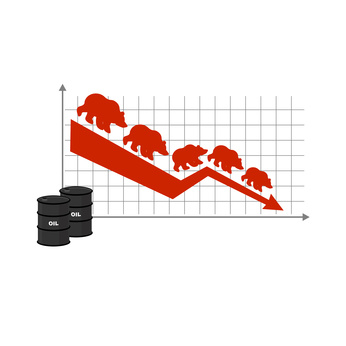 Crude oil and mortgage rates have had a cozy correlation in recent years. More often than not, they move in the same direction.
Last week oil dipped below $40—more than 20% beneath its June peak. That was enough to officially put it back in bear market territory, a quandary for Canada's resource-dependent economy.
Over the last few days, oil has bounced somewhat to $42-ish. But the number that really matters is $51.23. In June the market established that as a near-term high water mark for the spot price of WTI benchmark crude. Until oil closes above this level, it should continue weighing down mortgage rates like a bag of rocks.
Depression? Or Just Depressing?
This week's economic headlines are sponsored by Prozac:
"Over the past 10 months, Canada's economy has stalled altogether with zero growth."
"Canada's economy is growing at the slowest pace in 60 years and the only thing holding us up is housing."
Recent data tell the story. Last week's jobs and trade reports were more depressing than a snowstorm in September:
71,000 full-time jobs vaporized in July. That comes after Canada shed 40,000 in June, says StatsCan.
June's trade deficit was the worst in recorded history.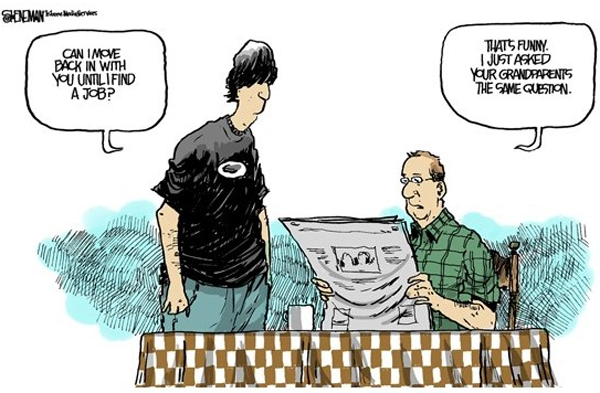 Just about the only things keeping Canadian rates above 0% are optimistic U.S. data, and the hope and prayer that Trudeau's $12-billion fiscal stimulus plan will work.
Bond traders aren't too confident, though, given that the 5-year bond yield—which steers fixed mortgage rates—is just two-tenths of a percentage point from its all-time bottom. Overnight index swap traders, who wager directly on Bank of Canada rate moves, are still betting more on the Bank of Canada dropping rates by year-end than raising them.
Desjardins Sees Rates Flattening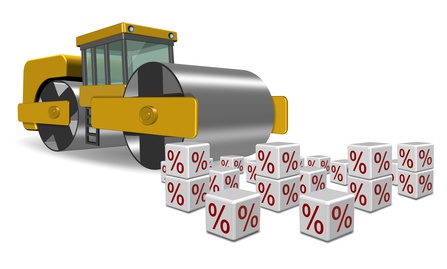 Desjardins' latest "Economic & Financial Outlook" predicts 5-year posted mortgage rates will be the same at the start of 2021 as they are today. That's a logical but uncommon view in economist circles, as few others are crystal-balling 4-5 years of flat rates.
Desjardins is, however, modelling a 75-basis-point BoC hike in 2019. But its senior economist Mathieu D'Anjou predicts "an economic slowdown in North America…will convince the Bank of Canada to reduce its key rates again" in 2020.
"Low bond yields internationally and the reluctance of central banks to raise their key rates will limit the rise in mortgage rates," he adds. "The fact that Canadian households look to be quite vulnerable to higher interest rates is another reason to expect the Bank of Canada to be really careful about raising interest rates too fast or too high in the coming years."
D'Anjou cautions against overborrowing, however, while hedging Desjardins' rate call somewhat: "I hope that Canadian households will not see our forecast as a good reason to take on even more debt. There is always a risk that rates could go up more than we are currently expecting, especially if inflation was to make a comeback."
Look for the 1-Handle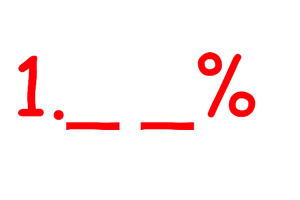 If you're well-qualified, risk tolerant and financially stable, here's a fast way to narrow down the right term: Look for a mortgage rate that starts with "1."
As long as the lender's contract isn't restrictive (i.e., doesn't have big penalties, abnormal switching costs, refinance restrictions, etc.), you can hardly go wrong in a sub-2% mortgage Yes, you can pay a bit more for a full-featured 5-year fixed at 2.24% +/-, but the preceding paragraphs are not the stuff rate hikes are made of. The historical outperformance of shorter terms and variable rates is well documented and now is not the time to flout history.
Inflation expectations (which guide rates) can always spike unexpectedly, but personal finance is about playing the long-term odds. With Canada's slow-growth economic backdrop, the lower your borrowing rate, the better your likely odds.
---

---