Fixed and variable rates have taken the fork in the road, each in a different direction.
5-year fixed mortgage rates rates headed north at the end of last year. They're hitched to bond yields, which soared when markets got spooked by the threat of Trumpenomics—i.e., inflation and higher borrowing demand.
Variable rates have swung the other direction thanks mainly to fatter discounts on insured mortgages. Taking a look at RateSpy's best 5-year variable rates, they're now below prime – 1.00% in some cases. Not long ago, prime – 0.60% was a steal. (Pricing on uninsured variables are dull by comparison, due to higher funding costs on uninsured loans.)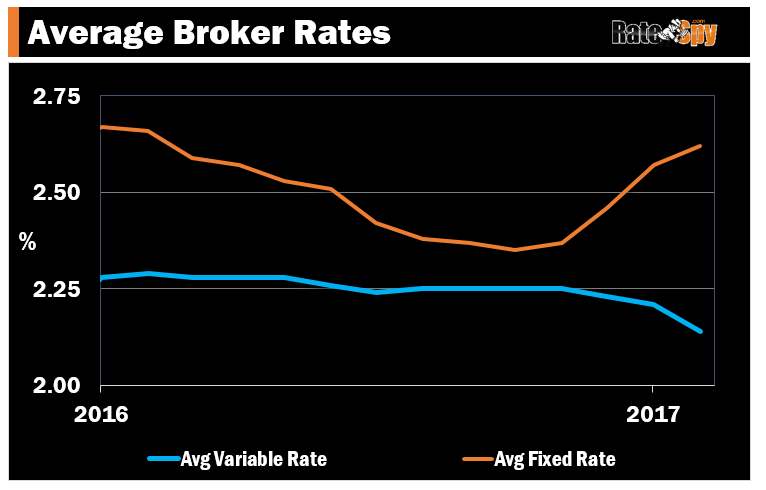 What the Crystal-ballers Say Now

Until the Bank of Canada starts telegraphing higher overnight rates (and don't expect any of that at this Wednesday's meeting), it presents no threat to low variable rates.
"BoC Governor (Stephen) Poloz still sees rate cuts on the table, as U.S. protectionist measures would have 'material consequences' for trade and investment," BMO economists recently wrote in a research note. "In a recent press conference, the Governor warned that 'policy divergence with the U.S. still holds.' [As a result] we continue to expect the Bank to stay on hold until mid-2018."
That's a familiar tune from economists these days, with most of them projecting flatline rates into 2018.
But don't discount rate ascension entirely. RBC sees a well-performing U.S. economy influencing Canadian rates higher in due course.
"While the (BOC) won't be moving alongside the Fed, higher policy rates in the U.S. will have an impact on financial conditions in Canada," they wrote. "Rising U.S. term yields will put upward pressure on Canadian interest rates—we see 10-year GoC yields rising to 2.45% by the end of 2017 (they're 1.60% now), tightening financial conditions even as the Bank holds monetary policy steady."
With the market predicting a growing gap between fixed and variable rates, 2017 could see a sizable rotation into variables after the 5-year fixed dominated 2016.
---

---