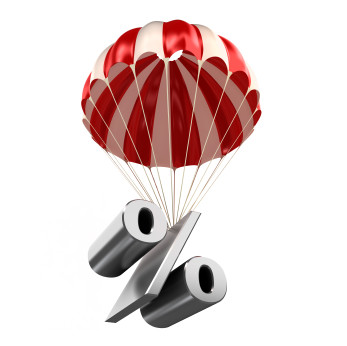 Canada's 5-year bond yield sank to an 11-month low Wednesday as the Federal Reserve hiked U.S. rates again.
But the Fed wasn't as optimistic on the economy as some had hoped. In turn, it's now projecting just two rate hikes in 2019, versus the prior estimate of three.
On this side of the border, average core inflation dipped to 1.9% and crude oil traded near a 16-month low. These developments, among others, are supportive of a longer pause in Canadian rate hikes. In fact, some economists (Capital Economics) are even calling for a rate cut by next December.
Fixed-rate Update
The #1 question on everyone's minds is still, when will the big banks cut fixed mortgage rates?
Spreads between typical 5-year fixed bank rates and the 5-year swap (a very rough proxy for a bank's base funding costs) are now 135 basis points, 18 basis points more than one year ago.
Much of that increase reflects banks trying to boost mortgage spreads (profits), bringing them back towards longer-term averages. But some of it is risk management in a market where economic sentiment is souring as the yield curve flattens (bank profits are higher when the curve is upward sloping, i.e., when the spread between long- and short-term rates is larger).
One interesting side note: The 5-year Canada Mortgage Bond was recently re-issued at a roughly 9-10 bps wider spread to the Canada bond, compared with September. That wider spread partly reflects growing liquidity concerns according to the head of capital markets at one major lender we spoke with.
And while we're on the topic of spreads, the fixed-swap spread (i.e., the average discounted 5-year fixed rate minus the 5-year swap rate) is still below its 10-year average. So today's fixed rates are not perversely inflated.
Short of mounting fears of an economic crisis, lenders we speak to expect that 5-year fixed rates will ultimately drift down to the 5-year GoC plus 165-170 basis points. That would bring them down to roughly 3.54% or 3.59%, about 15-20 basis points lower than today, assuming yields remain around today's levels.
But it'll obviously take longer than most expected to get there, and the holidays won't speed up the process.
---

---