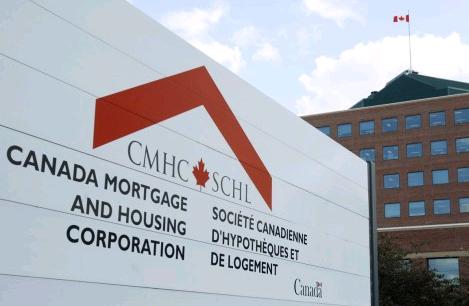 Well, you don't see this every day: The head of Canada's housing agency seemingly guilting lenders into sending him business and tightening mortgage lending.
In a letter to the industry originally leaked to Bloomberg (see below), CMHC CEO Evan Siddall chided and accused mortgage lenders of:
short-sightedly sending too much business to CMHC's competitors
creating a "very significant drag" on the economy
helping "people buy homes with negative equity"
exposing "too many people to foreclosure"
putting "short-term profitability" ahead of the country
having a "dark…underbelly" that needs to be exposed.
These are alarming charges…for those who don't know the backstory.
It's a story that all starts with CMHC's decision to stop lending to certain types of borrowers, mainly borrowers with higher-than-average debt loads.
Its competitors refused to follow CMHC's lead, arguing that those borrowers are good credit risks with good income prospects.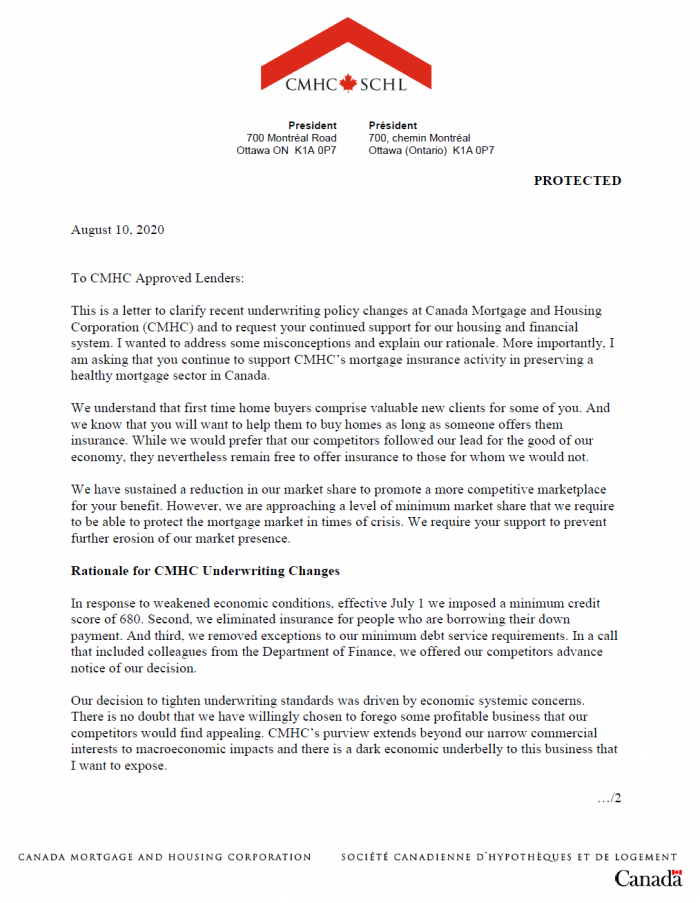 That brings us to Siddall's missive above. It was a divisive letter that never should have been sent in its current form, for at least seven reasons:
The Letter Overlooked the #1 Cause of High Debt Ratios: Inadequate Supply Leading to High Home Prices

Housing Canadians is CMHC's job, and objectively speaking, its top leadership has dropped that ball. From the turn of the millennium we've had the same problem: not enough middle-class homes within a commute of major employment hubs. CMHC has begun some great work to house underprivileged Canadians with its $55-billion National Housing Strategy, but it's too little too late for middle-income families. Years after the supply problem became apparent, families are still left house-poor, overpaying for the shelter they need to survive. Whether it's a lack of strategic builder incentives, uncoordinated urban planning or insufficient prioritization of high-speed commuter rail, the agency's inability to rally other arms of government and yield results is costing Canadians every day. While CMHC's incredibly dedicated and talented underwriting team, securitization team, research teams, media team and social housing teams serve Canadians well, its top leadership has failed in this essential mandate.

The Letter Ignored the Stress Test

The elevated debt-service ratios Siddall cites are elevated largely on paper. For years, lenders stress tested 5-year fixed mortgages based on the actual rate people pay and time-tested debt-ratio limits. In 2016 and 2018, that changed and regulators forced people to prove they can afford payments at much higher rates. That was a good idea in principle, despite officials admitting to choosing the wrong qualification rate. What the stress test did, however, was skew reality because people could actually afford much more than what regulators were allowing them to borrow.
That brings us to CMHC's July 1 ban on borrowers with gross debt service (GDS) ratios above 35%. ("GDS ratio" refers to your housing expenses divided by your gross income). Someone with a 39% GDS on paper really has a true GDS as low as 31%, based on actual mortgage rates at origination. Today, the minimum stress test rate is a whopping 2.80 percentage points higher than real 5-year fixed rates. That means CMHC's reduction in GDS limits actually forces its borrowers to have "true" GDS ratios well under 29%, an excessively conservative policy that constricts homebuying, which in turn constricts economic consumption and jobs.
Because of point #1 above, sub-29% true GDS ratios are simply no longer realistic. Housing is just too expensive. There's a reason 30-35% of Genworth's new insurance written in Q2 had a GDS ratio over 35% and/or a TDS ratio over 42%. People are that leveraged (on paper) not because they want to be, but because they have no choice.
And now such borrowers will have even fewer options. Thanks to CMHC's pullout, private insurers are getting flooded with high GDS/TDS deals. As a result, privates are getting more selective and their approval rates for these customers are dropping. This brings us to the next point.

If Lenders Do What He Says, Renters Suffer

People can't live on the street. For that simple reason, "Making it harder or more costly to own does not decrease overall housing demand," points out True North Mortgage CEO Dan Eisner. "It just makes more people into renters." Hold rental supply constant and add rental demand and guess what happens? Unless you adjust supply, "Housing prices are driven by the number of people looking for a place to live, not the number of people looking to buy."
Mr. Siddall is justly concerned that people are spending too much money on housing and that'll eat into their consumption of other goods. We couldn't agree more. But almost half of Toronto renters spend more on rent than CMHC guidelines allow them to spend on home ownership. Siddall appears to be saying it's okay to push up rents and "slow future consumption," but it's not okay to maintain mortgage access if that slows consumption.

The Letter Assumes No Accountability

Oligopolists concerned about market share are ill-advised to unilaterally institute policy changes that defy consumer demand. And if they do, they better be darned well sure that competitors follow. Siddall appears to have badly miscalculated:
A) private insurers' willingness to follow his lead, and
B) lenders' desire to support private insurers.
Not only are lenders now sending all their non-CMHC compliant mortgages to Genworth and Canada Guaranty, they're sending "less risky" business (as Siddall puts it) as well. They're doing this because:

there is legitimate consumer need
they appreciate private insurers' willingness to use common sense underwriting
the private insurers may be encouraging them to send low-risk business to help keep their books balanced. Can't blame them for that.

CMHC's market share has plunged under Siddall's watch. Its latest plan shows it targeting up to 50% market share, but we'd be surprised if it held more than a third of the market now. Not that long ago it approached almost 90%, which reminds us of Tom Mulcair's famous 2012 question, "Can the Finance Minister inform…all Canadians, why he wants to dismantle a 60-year success story at CMHC?"
Given its new self-imposed restrictions, CMHC will now be overly concentrated in smaller, less liquid real estate markets — given debt ratios are lower in those markets. That's a whole other taxpayer risk — particularly if the economy and home prices head south, as CMHC is forecasting. CMHC's sole shareholder (the taxpayer) is left holding the bag for under-calculated decision-making that's created a less diversified and far less profitable crown corporation.

The Letter Was a Weakly Argued Case

One of Siddall's central arguments is that CMHC needs to have 40-50% market share so it can "scale up quickly" if private insurers pull back from the market in an economic shock. The implication is that private insurers would head for the hills if home prices were diving. That assertion was unsupported in his letter.
The reality is, private insurers have grown their participation despite the deepest recession of all time. And, if Ottawa fights future recessions like it did this one (with hundreds of billions in consumer and business aid), there's even less reason for private insurers to cut back their presence.
CMHC, whose very job as a crown corp. is to "take one for the team" (the team being our country), retains the ability to eat into its profit and over-staff if it feels that's necessary for systemic stability. If it doesn't want this obligation, perhaps it should forgo its government-bestowed competitive advantages and privatize.
As for the important housing support that CMHC provides during crises (like its recent Insured Mortgage Purchase Program), those programs can easily be government funded regardless of CMHC's market share.

The Letter Seemed a Mite Bit Inconsistent

For years, policy-makers have told us that mortgage risk must shift from the taxpayer to private companies with less government backing. Now they get their wish and they want to roll it back.

The Letter Undermined Confidence in Canada's Financial System

When investors get scared for no good reason, it costs all Canadians money, homeowners or otherwise. Investors worried about our outlook pay less for Canadian bonds and businesses (foreign and domestic) invest less in our economy. That drives borrowing costs higher, limits lending and restricts job growth. If Mr. Siddall is going to yell "fire," people are going to run, so there better darn well be a fire.
To lead an entire industry, you need credibility. Siddall's constant unfounded charges that the industry facilitates "excessive borrowing" paints lenders and insurers as profit-hungry robber barons who couldn't care less about doing the right thing for the country. That's not the most endearing or effective management style. Lenders don't speak up because they fear what Siddall can do to their business. But unless you're Genghis Khan, you can't lead by fear.
Mr. Siddall's letter is replete with omission of fact and context. We, like the rest of the industry, support a safer mortgage market. In fact, we support policies that should have already been taken to reduce borrower risk, but haven't been. What we don't support is this illogical crusade against homeownership that does nothing to correct the supply/demand imbalance that's fueling excessive debt in the first place.
Siddall admitted that "CMHC cannot stop" lenders and insurers from approving the insured mortgages he declines. That's why, this author believes, he CC'd top policy-makers on this letter. His hope may be that regulators "have his back" and force the rest of the industry to adopt his changes—once again proving him "right."
But doing that would compel the qualified borrowers he no longer wants into renting or higher-cost lending. That's a problem. Whether someone rents or buys should remain a personal decision hinging on their qualifications and needs.
If the likes of Siddall are going to manipulate the market, do it to solve one of Canada's most urgent economic crises: the imbalance in middle-class housing stock. Economists almost unanimously support this.
As for manipulating general debt ratio limits in our already conservative "stress test" era—not only does that flout the law of diminishing returns, it creates a host of other economic imbalances.
Industry leaders confiding in me today were united on two fronts: that Mr. Siddall has lost their trust with such reckless assertions, and by virtue of that, has now officially overstayed his welcome in the Canadian mortgage market.
---
Viewpoint stories are opinion pieces. They solely reflect the author's perspectives and not the operators of RateSpy.com.
---

---