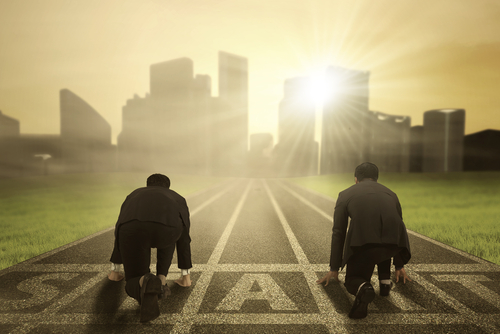 For the first time on record, a non-promotional reverse mortgage rate is below a standard HELOC rate.
EQ Bank, one of only two Canadian lenders offering reverse mortgages, announced a 15-bps drop to all of its rates Thursday, including its already discounted "Lump-Sum" rates that we reported on in December.
For the lump-sum withdrawal option, borrowers can now access rates as low as 4.44% for a one-year term. That's now lower than the average Home Equity Line of Credit (HELOC) rate of prime + .50% (4.45%).
Critics have long slighted reverse mortgages for being priced so high. With this new rate, that argument has largely fizzled. It's hard to criticize a reverse mortgage based on rate alone, given that millions of Canadians have HELOCs, generally at higher rates.
EQ's reverse mortgage rates have fallen steadily since the challenger to HomeEquity Bank entered the space in January 2018. As recently as March of last year, the 5-year rate was 6.74%. At 4.74% now for the lump-sum option, that's a savings of 200 bps.
Comparatively, HomeEquity Bank's 5-year fixed rate for a reverse mortgage currently sits at 5.59%. Although, that's for a different type of product—one that doesn't require you to borrow in one big lump sum. Equitable has the same product as well, at 5.34%, but it doesn't let you borrow as much as HomeEquity bank due to loan-to-value restrictions.
Reverse Mortgage Growth Explodes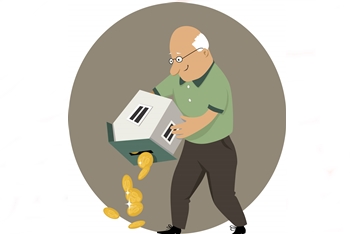 These new reverse mortgage rate cuts come at a time of record growth in the sector.
As of November 2019, the balance of reverse mortgages outstanding reached a new high of $3.98 billion, according to the Office of the Superintendent of Financial Institutions. That's a 14% increase from the previous year, versus just 4-5% growth for regular mortgages.
Rising demand for equity release solutions will astonish no one given strong home values, an aging population, rising debt loads and a household saving rate that's been downtrending for decades.
As more house-rich seniors grow desperate for cash, and as falling rates win over financial advisors, reverse mortgages will increasingly appeal to those who were previously reluctant to withdraw home equity.
A New Comparison Calculator
Equitable rolled out a new calculator this week to help people see how much equity they'll be left with after their reverse mortgage. Unlike HomeEquity Bank's calculator, it lets you compare different scenarios side-by-side and make more flexible assumptions, like assuming that home values might actually go down during your term. Imagine that.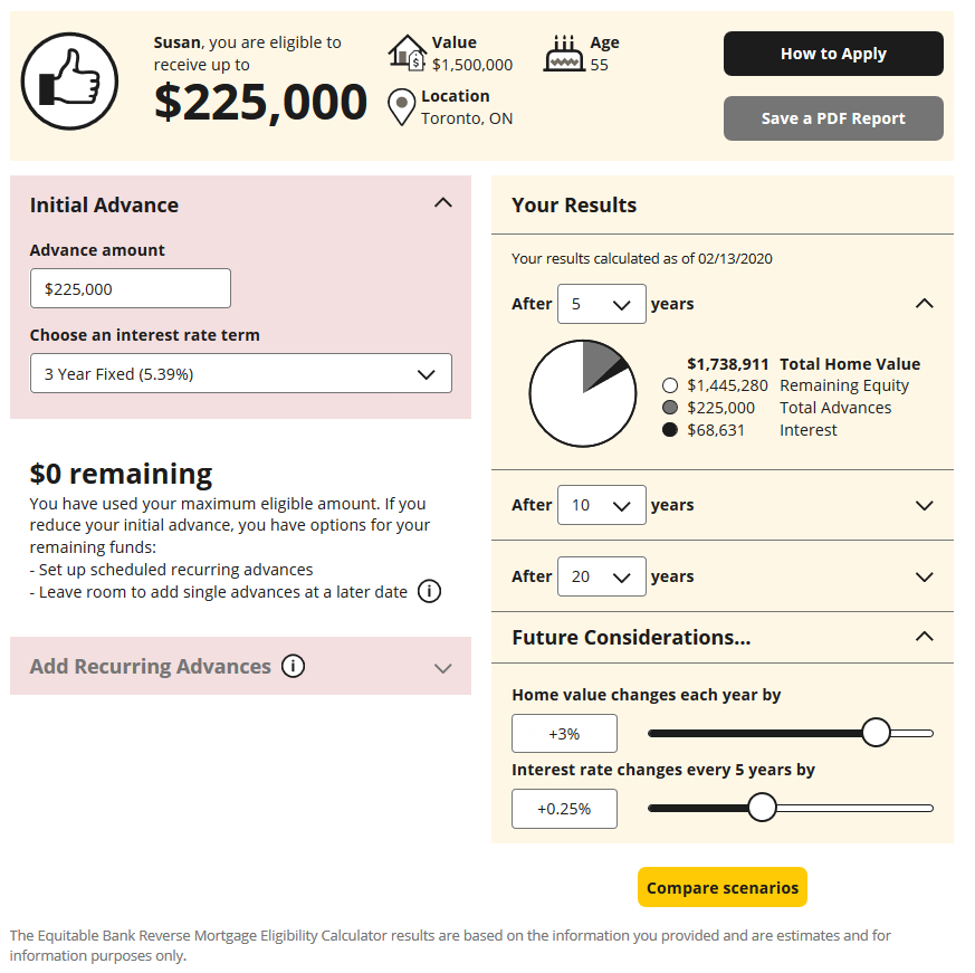 Source: https://www.equitablebank.ca/residential/reverse-mortgage/eligibility-calculator
Since EQ Bank entered the reverse mortgage market in 2018, it has proven a formidable challenger to rival HomeEquity Bank. Albeit that's yet to show up in its results.
Besides leading the market with rate drops, the bank also unveiled a simpler closing process in January designed to save clients time and money. Rather than requiring two lawyers to close a reverse mortgage, the new arrangement relies on just one, which the bank estimates will save clients roughly $1,000. Here's more on its fee savings.
---

---