The rate market just witnessed a rarity. The U.S. Federal Reserve has suddenly slashed its key interest rate by 50 bps.
The last such "emergency rate cut" happened in 2008 during one of the worst recessions of all time.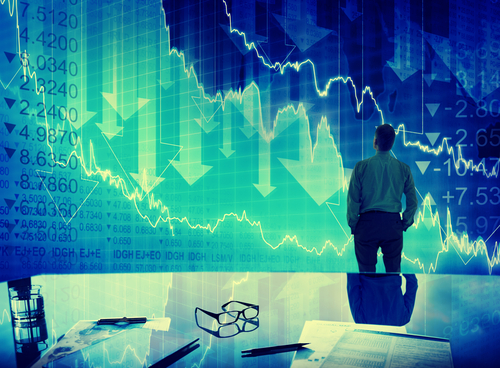 This pretty much cements a Bank of Canada rate cut by tomorrow.
"With markets now pricing in a full 25 bps worth of easing, the cost of disappointing the market may be too high for the BoC to maintain its very cautious approach," TD Securities chief Canadian strategist told Bloomberg News.
The surprise cut drops the U.S. fed funds target down to 1.25%. And the market currently expects two to three more reductions by year-end.
Most economists expect the Bank of Canada to cut 25 bps, but the bond market is now pricing in greater odds of a 50-bps cut. The market anticipates the BoC waiting until tomorrow and not acting today, but nothing is out of the question.
Further out, the market now expects Canada's overnight (policy) rate to drop 75-100 bps total in 2020. If that happened, it could theoretically drive down prime rate by anywhere from 45-100 bps.
Rate watchers widely expect banks to not pass along some of the BoC's cuts to consumers. Banks retained 20 bps of the last 50 bps in cuts in 2015. In other words, prime rate dropped from 3.00% to 2.70% when it normally would have fallen to 2.50%.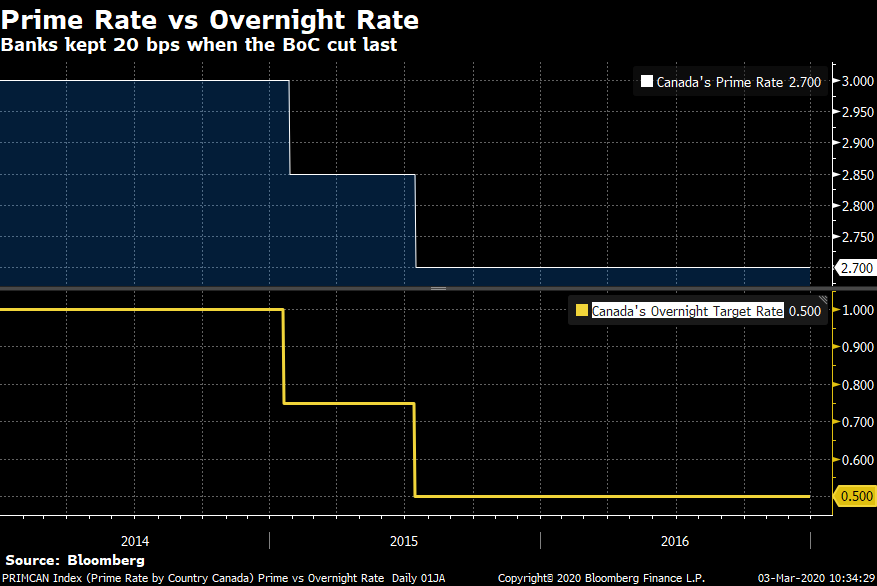 Either way, variable-rate holders should benefit after watching rates rise or go flat for four-and-a-half years. Just keep in mind that the lower rates go, the less likely banks are to pass through BoC cuts in full, or even partially (if things get bad enough economically and in the rate markets).
Variable-rate mortgagors aren't the only ones who will see lower rates. Canada's most-watched fixed-rate indicator, the 5-year bond yield, just broke yesterday's panic low. Once this manic volatility calms down, lenders will bring fixed rates lower — until and unless credit risk surges and/or they're forced to pay big risk premiums to fund their mortgages.
---

---