Fixed and variable rates began the year on totally different trajectories. Fixed rates were on the way up. Variable rates were on the way down.
But in the last eight weeks, the gap between the two has conspicuously narrowed, with fixed rates falling up to 20 bps. That's driven down the "insurance premium" borrowers pay for the security of a fixed rate.
Canada's lowest 5-year fixed rates are now back to within 16 bps of the 1.99% psychological threshold. Of course, the lowest rates are for insured mortgages only. What else is new?
Insured mortgages are now a whopping 28 bps lower than comparable uninsured mortgages. That's how much investors value our sovereign's mortgage guarantee.
This gap between insured and uninsured rates has continued to widen since the Liberals:
That said, we're seeing renewed competitiveness on uninsured rates. Discounts on uninsured refinance rates have improved by 4 bps in the last month, relative to 5-year swap rates (which are a rough proxy for lenders' base funding cost). Put another way, the pricing advantage of major banks—who don't need to insure their mortgages—has ebbed somewhat.
Why fixed rates are falling
There's no magic about it. Fixed mortgage rates have simply followed the descent in Canada's 5-year bond yield.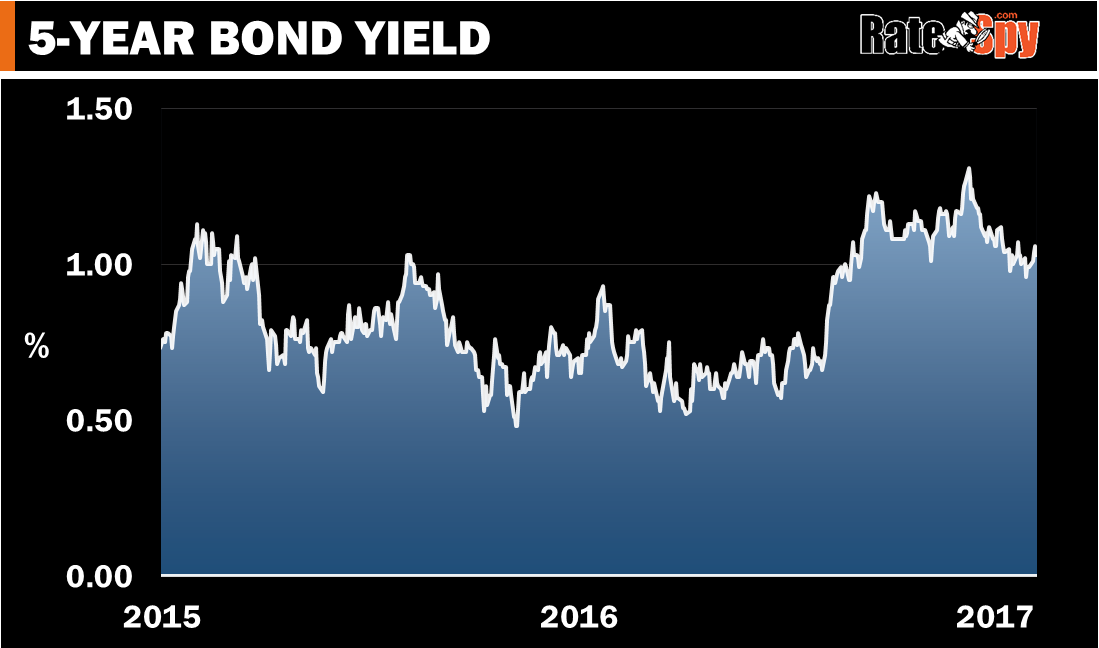 The catalysts for lower rates have been a loss of faith in Trump's economic agenda, falling oil prices and anti-inflationary economic data.
What Now
A big uptrend started last fall, but rates never ascend in a straight line. There are always pullbacks.
The question of the day is whether this rate drop is a pullback, or a directional change entirely.
Among other things, the answer will depend on the:
power of 'Trumponomics' to energize America's (and potentially Canada's) economy
price of oil, which strongly influences Canadian interest rates
great unknown (is a global crisis in the wings that'll drive down yields?)
The best thing most armchair rate observers can do is stay in their armchair and not try to decipher this randomness. Take solace that rates won't soar, not as long as the 5-year yield stays below its 2-year high (which is 1.33% for those keeping track).
Fixed-rate Savings
All this is welcome news for mortgage shoppers stuck on a 5-year fixed. In January, Canada's lowest 5-year fixed rate was 2.33%. Today, insured rates are back to as low as 2.15%
On a $300,000 mortgage, that's a $2,525 savings for 5-fixed borrowers. And that's over just one five-year term.
---

---