The U.S. Federal Reserve and Bank of Canada seldom make rate announcements on the same day, but tomorrow will be an interesting exception.
No one expects any fireworks, but if you believe market expectations, the Fed will cut its key rate 1/4 point while the BoC does a whole lot of nothing.
If it all plays out accordingly, it'll be the first time America's key rate has fallen below Canada's since 2016.
The implication, particularly if the Fed keeps cutting U.S. rates, is that the BoC will be dragged down with it. And keep in mind, the market does think the Fed will cut at least twice more by early 2021.
But mortgagors floating their rate shouldn't get their hopes up that U.S. cuts will lower variable mortgage costs on this side of the border, at least not this year. While U.S. rates act like a tractor beam on Canadian rates long-term, U.S. rates can still undercut Canadian rates for years on end, as the following chart from Bloomberg shows.
America's policy rate has been 200 bps lower than Canada's twice in the last 25 years. Moreover, with an economy that's created almost 360,000 jobs in 12 months and has a 4-decade low in unemployment, our central bank is in no rush to fuel more debt binging with a rate cut.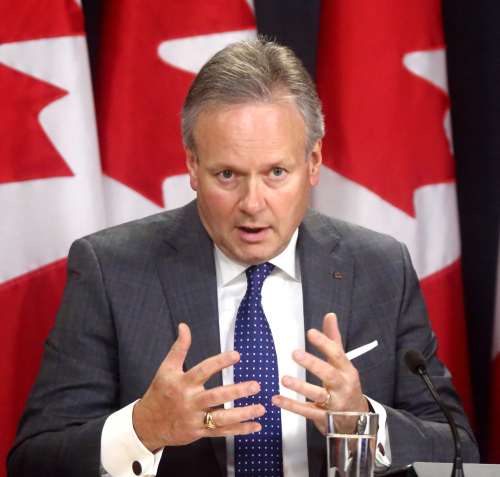 An oft-heard counterpoint is that the loonie would "soar" if the BoC kept its policy rate higher than the U.S. But history doesn't always show that to be true. The loonie can gain as little as a few cents, depending on the U.S./Canada rate differential, oil prices and other factors. A loonie increase of that nature would hardly spark an inflation or export dilemma, at least until the Fed is more than a point below the Bank of Canada.
Now, none of this is to say that the BoC won't ever follow. Heck, all it would take is oil to crack $40 a barrel for Canadian rates to do the swan dive. But the potential remains for the BoC to stay on hold for a dog's age, or at least the age of a healthy gerbil.
As it stands, there's just a 50-50 chance the BoC will cut next year, according to implied bond market pricing. The Canadian market is now waiting to see if Canada's top rate boss, Stephen Poloz, changes that thinking tomorrow at 10 a.m. ET.
---

---