Would you rather have the lowest mortgage rate or the lowest borrowing cost?
If you picked the latter, good for you. You're mortgage savvy, and you're in the minority.
Check out this chart from a recent Manulife survey. Its findings show that the "interest rate" dominates all other factors when consumers pick a mortgage. That's great news for a rate comparison site like this one, but it's not great news for borrowers.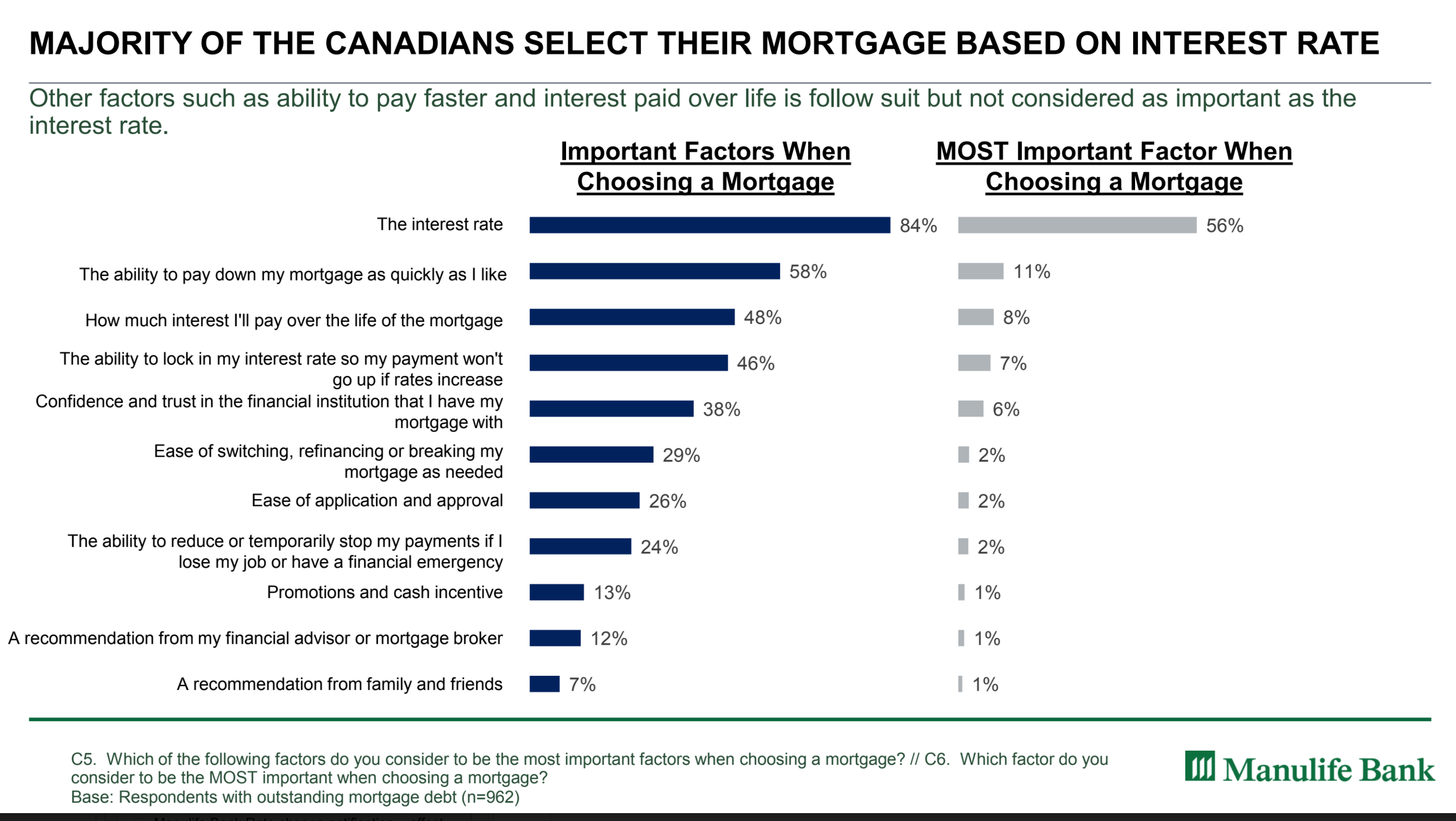 According to respondents, "how much interest I'll pay over the life of the mortgage" is far less important than the rate. That's like judging the fastest sports car by horsepower alone. One metric doesn't tell the whole story.
The interest rate reflects but one component of mortgage cost (the regular interest expense). It doesn't reveal the other ways lenders "get ya" in the pocketbook.
The reason the interest rate is such a dominant consideration for borrowers is because most people can't quantify what else a mortgage lender might charge them.
In fact, there's a laundry list of extra costs. Many lenders, for example, have:
High mortgage penalties for refinancing or terminating early
High rates when existing customers try to refinance before maturity
High rates when existing customers try to convert a variable to a fixed
High rates when existing customers try to renew
Tight restrictions on how long you can port with no penalty
Penalties if you need to increase your mortgage before maturity
Prepayment restrictions
No ability to renew early (a potential problem in a rising rate environment)
More costly compounding on floating-rate mortgages
High discharge fees, reinvestment fees, and,
Less favourable registration methods — e.g., collateral charge mortgages, which are inappropriate for many.
If drawbacks like these never affect you, then selecting the lowest rate (for the most suitable term) will save you the most money. But the odds are against you not needing flexibility.
The statistical reality is that most people change their mortgage sooner than every five years. And that's where the fine print in a lender's contract can easily cost you the equivalent of 0.10% to 0.50% extra interest per year.
Unfortunately, it's not easy to quantify the benefit of mortgage flexibility. In theory, if you wanted to evaluate the true "best" mortgage, you'd have to:
make assumptions about what changes you might make to the mortgage
predict when you might make those changes
estimate future interest rates
calculate the expected borrowing cost of each mortgage given these factors
objectively compare all this information.
In practice, that's near impossible for most consumers, and even for most bankers and brokers.
This is why so many borrowers focus on the rate instead of what they may actually pay.
At the Spy we're developing technology to make this analysis process easier for you. It's a ginormous programming undertaking, but it's coming and we'll keep you posted.
In the meantime, don't be afraid to pay a little extra for a highly flexible mortgage, especially if you're locking into a 5-year fixed rate. Five basis points more on the rate could save you 20 after closing. True fact.
---

---