And that's as the government intended.
Albeit, the deceleration may be less pronounced than some might expect, given all the recent headlines about this year's real estate slowdown and mortgage rule tightening.
Here are fresh new mortgage stats from CMHC and Equifax (as of second quarter of 2018):
Number of active mortgages: 5.98 million

This number essentially stayed the same versus Q1, which is not typical
Normally the mortgage count grows in Q2
By comparison, last year saw mortgages grow by 32,000 in Q2'17 vs Q1'17

Mortgage originations in Q2: 205,000

Down 11.9% year-over-year

Average mortgage size for new mortgages in Q2: $276,310

That was a $5,860 drop versus the prior quarter
This $276,310 figure includes all purchases, refinances and switches (but not renewals with the same lender)
The average mortgage size for all existing mortgages is much lower: $205,980

Total outstanding mortgages (by value): $1.232 trillion

That's up 5% year-over-year, despite the slowdown in mortgage units.
Here are some individual mortgage metrics:
Average scheduled monthly mortgage payment: $1,260

Up 4.1% year-over-year
For new mortgages in Q2, the number was $1,420, up 3.9% year-over-year

Share of new mortgages with a low credit score: <1%

The average credit score ("Equifax Risk Score" score) for mortgage holders was 754

Number of mortgages written off by lenders in Q2: 5,820

Down a very notable 14.7% year-over-year and in keeping with the improvement in prime mortgage quality
Unfortunately this says little about the quality of the fast-growing non-prime mortgage segment, since many of these loans are not tracked by Equifax

Percentage of mortgagors with very good (700-749) / Excellent (750+) credit scores: 18.9% / 62.5%

In all, 81.4% of Canadian mortgage holders are above the 700 credit score threshold
The minimum score to get the best rates is usually 680, but lenders are increasingly looking for 700 or 720
Mortgage Share Drops
Here's a chart that won't surprise anyone, given tougher mortgage stress testing, higher home prices and rising rates. All these factors affect borrower qualifications and mortgage demand. And, of course, the harder mortgage approvals become, the fewer people that get them.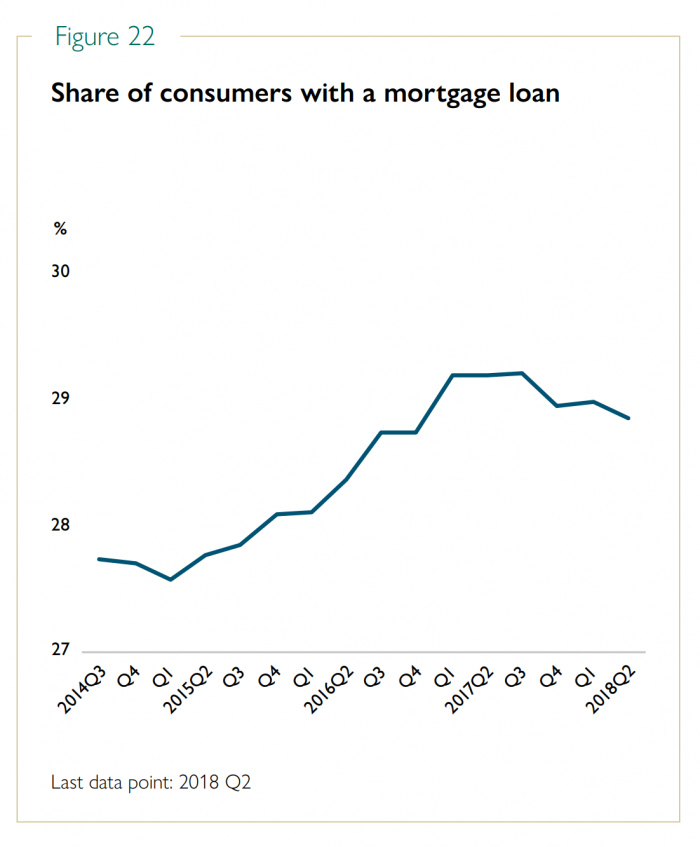 Relying on Credit
Here's another chart that screams intuitive logic. Check out how much more people borrow when their credit is deteriorating. Is it any wonder that lenders often raise credit line interest rates on borrowers with falling credit scores and surging credit utilization?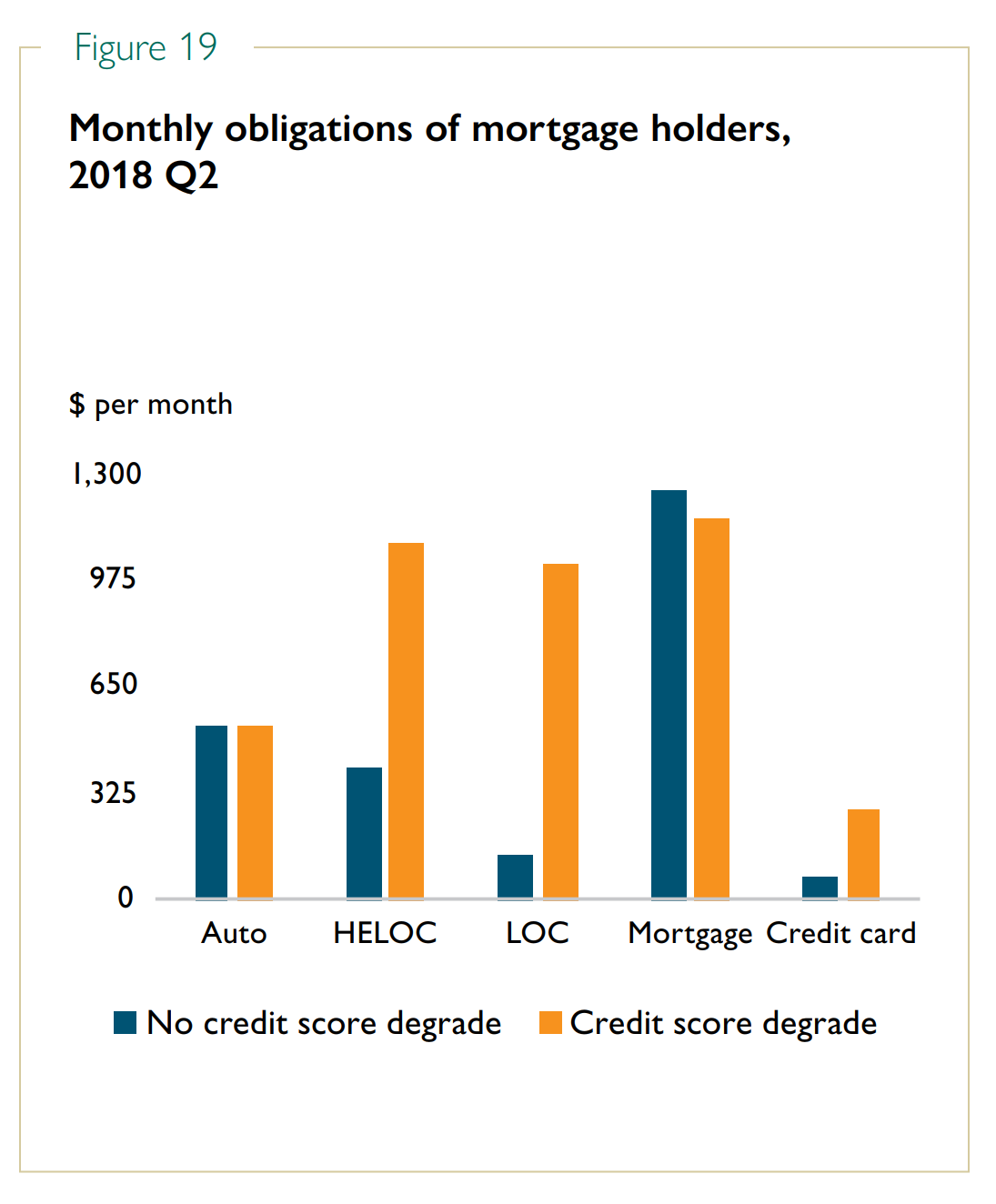 But that doesn't tell the whole story. As CMHC notes, "Credit score degradation can be the result of various factors, such as recently incurred additional debt or late payments to an existing account."
When it comes to HELOCs, these numbers may be a bit skewed. The reason: a credit-worthy borrower can get a brand new HELOC and see his/her score tumble overnight. That sometimes happens because Equifax's scoring algorithm deems them to have a worrisome increase in credit utilization, even though their HELOC is simply a mortgage substitute.
One of this author's clients recently saw his credit score plunge almost 60 points after getting a new HELOC. The client had no other credit changes. He simply preferred an open HELOC instead of a regular mortgage, and it cost him from a credit standpoint.
---
Story data sources: CMHC & Equifax
---

---