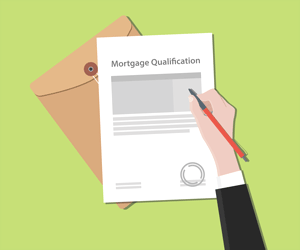 We're one week into 2018, OSFI's new mortgage stress test is live and the earth is still spinning on its axis.
But that axis is now tilted…in credit unions' favour.
If you're a mortgage shopper who's been turned down by a bank—courtesy of the aforementioned new mortgage rules—then credit unions want to talk to you.
Credit unions aren't bound by OSFI's game-changing "stress test" (which applies to borrowers with 20%+ equity). Instead of forcing you to prove you can afford a rate that's two-plus points higher, some CUs qualify you on (i.e., measure your ability to afford) the contract rate you actually pay. That flexibility has industry-folk projecting a 5% to 20% surge in CU mortgage volumes this year.
As we speak, credit unions are being inundated with requests from mortgage brokers to get on their approved broker lists. OSFI's rule change is destined to solidify brokers as the go-to source for borrowers turned down by banks. Why? Because brokers can compare multiple credit unions to find betters deals for more indebted Canadians.
But there are two very important points to note:
A) Only a minority of credit unions have competitive rates and qualify borrowers at the contract rate
B) Only a minority of brokers deal with multiple credit unions who qualify borrowers at the contract rate and have competitive rates.
Therefore, if you've stress tested yourself and discovered that you need a bigger mortgage than a bank will give you, you may want to:
1) Call the credit unions with the lowest rates and ask if they'll qualify you at their 5-year fixed contract rate.
Tip: To find CUs with the best mortgage rates, check "Credit Union" in the Spy's "Provider Type" box on any rate page.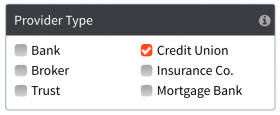 2) Contact a reputable experienced broker and ask for his/her lender recommendation.
Doing the above can net you about 18% more buying power than you can get at a bank. And you'll receive a more reasonable rate by shopping around.
On the topic of rates, most CUs who permit contract rate qualifications charge at least 1/4 point more than the lowest rates for more qualified borrowers. Many then charge an additional 10+ bps if you want a 30-year amortization.
---

---