No rate-cut drama today.
The Bank of Canada left its key lending rate at 0.50% this morning, a move expected by about half the market.
Mortgage Impact:
Banks weren't about to cut prime by more than 5-15 basis points anyway (a basis point is 1/100th of a per cent), so this news is not overly momentous for variable-rate mortgage holders—not in the near-term anyhow.
Government bond yields were mostly unchanged following the announcement. Keep an eye on the 0.49% level in the 5-year yield. A few closes under that mark will knock down fixed mortgage rates again. Barring that, fixed-rate declines may be limited.
The BoC slashed its 2016 economic growth forecast from 2.0% to 1.4% (that's low) and expects the oil shock's GDP effect to peak "roughly in mid-2016."
En Route to Zero? As of this morning, financial markets were pricing in a 52% probability that Canada's key lending rate will be at zero or negative by September. (See table below; source: Bloomberg)
That said, the Bank of Canada doesn't seem worried by market expectations. Governor Poloz says oil's decline is a "significant setback" for Canada, but a lower loonie, a recovering U.S. and Ottawa's infrastructure spending will lead to "above potential" growth later this year and in 2017. Is Poloz overly optimistic or do we merely need more time (he suggests 2+ years) for these stimulants to revive our economy?
The Market Sees Lower Rates Ahead, Regardless of Today's Announcement
Despite the BoC holding pat today, this isn't over. If you believe the people with big bucks to bet (traders), rates are likely headed south later this year, potentially in March and/or April.

The Carnage in Canadian Oil Continues
Few Canadian oil producers can make money at these prices. Rates and oil will continue their tight correlation for the foreseeable future. Hence, something besides crude will need to pick up the slack in GDP growth or we're on track for cheaper mortgages in coming months (maybe years).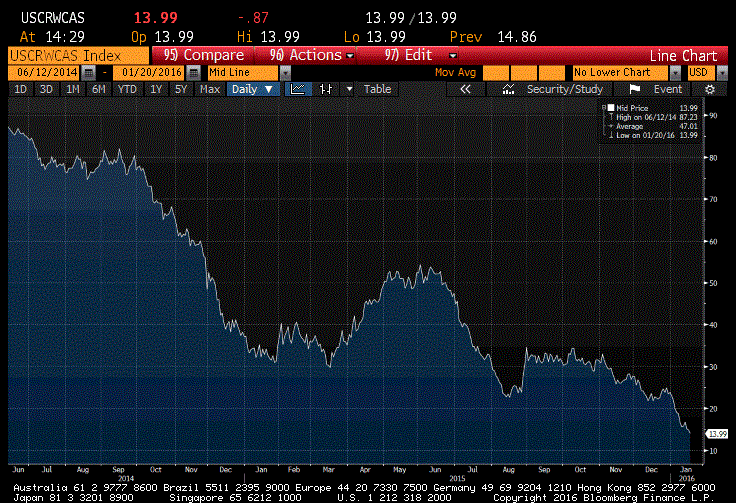 The Spread Will Grow
Much to the frustration of variable-rate borrowers, this spread (difference) between prime rate and the Bank of Canada's key lending rate will likely widen later this year (if market expectations pan out). With variable-rate discounts less appealing, short-term fixed rates will remain the best value for most financially stable borrowers…for weeks to come.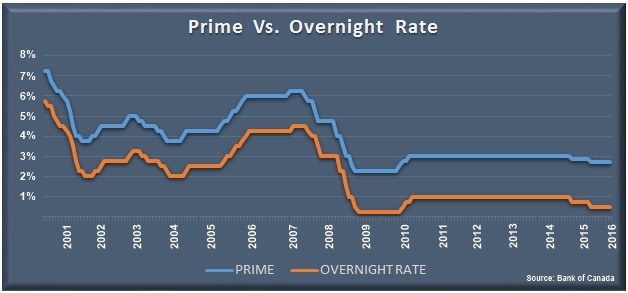 ---

---