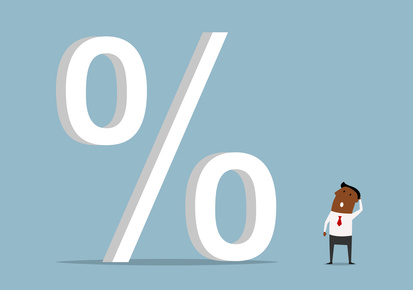 Variable-rate holders can sit back in their easy-chair. Prime rate is cemented at 2.70% after the Bank of Canada pushed out its forecasted economic recovery for the umpteenth time.
The Bank said there's now "heightened uncertainty" in its rate outlook, as if it had any certainty before. It nevertheless has consulted its black box models, which purblindly forecast 2% growth through 2018. Two percent growth is another way of saying mediocre growth, and rates rarely rise in a mediocre growth environment. But as always, any number of events (soaring oil, a big trade deal, a housing crash,…) could alter these myopic forecasts.
"Overall, the announcement is consistent with our ongoing view that the BoC will keep rates on hold for an extended period that lasts through at least early 2018," says the best economic summarizers on the net, Action Economics.
Rates Near Small Tipping Point?
Keep tabs on crude. The oil gods rule the rate heavens and oil is forming what technical analysis geeks call a "cup and handle" formation near the all-important $51-ish resistance level.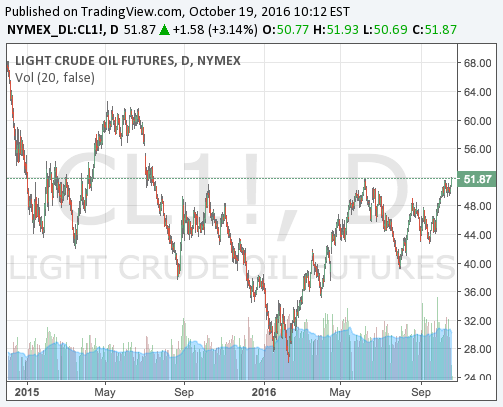 In case you haven't seen this chart before, this is how tied Canadian interest rates are to oil (pretty correlated).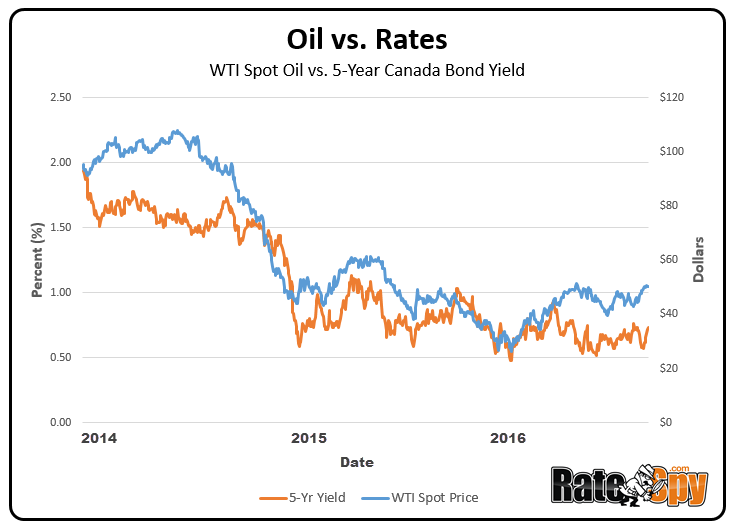 Translated into English, this means we could potentially see oil pop here and take the 5-year yield up with it. That could push longer-term fixed mortgage rates higher by at least a tad.
Takeaways:
If you're shopping for a 3+ year fixed term and closing in the next 120 days, and you see oil run above $55 and the 5-year yield surge towards 1.00%, be prepared to lock in (in case rates go even higher).
Variable, 1- and 2-year fixed rates should be mostly unaffected. For them to move, the 2-year – BoC spread (a measure of traders' expectations for BoC rate direction) would probably have to hit 0.25%+. That doesn't seem to be a near-term threat.
Best Rates This Week
Mortgage pricing is mostly unchanged this week. There's been a dearth of major rate promos lately, likely because lenders are in profit conservation mode and rates are already at Mariana Trench lows.
The best values for well-qualified, risk tolerant borrowers remain in the 1-year fixed and 2-year fixed space. But if your mortgage balance or amortization are greater than average, and/or you're worried we're near a rate bottom, 5-year fixed deals are available at insanely cheap rate premiums over short/floating-rate terms.
---

---