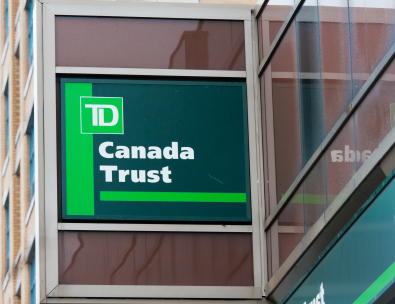 One week ago BMO stunned competitors with a record variable-rate discount. Now, one of its juggernaut competitors—TD—is responding.
TD has just matched BMO's special with its own prime – 1.00% offer ("TD prime" – 1.15%, to be exact).
That ties BMO for Canada's lowest variable rate on an uninsured mortgage. Remember, uninsured rates are required if you're refinancing, buying a home over $1 million, want an amortization over 25 years or are financing a rental property.
The product is a standard TD variable with no special restrictions, just at a much better rate. The rate is based on a 25-year amortization or less (if you want a 26- to 30-year amortization, add 10 bps to the rate, i.e., 2.55%).
Compared to BMO, TD's is a collateral charge. That saves you legal fees if you later refinance with TD, but may cost you legal fees if you switch from TD at maturity.
Unlike BMO, which says its "offer is not available for renewals of existing BMO mortgages," TD is not dissing its existing customers. They get this special too.
The Fixed-Variable Spread Could Widen
This move comes as bond yields hit a fresh near-7-year high this morning. This could easily widen the gap between fixed and variable rates at Canada's biggest lenders. That spread now stands at over one percentage point at many lenders, a key psychological number.
As fixed and variable rates diverge, that generally drives a higher percentage of borrowers into variable rates, even as rates rise. But given those impending rate hikes, we may not see a flood of variable-rate volume until the spread widens further.
Unlike BMO's rate, this special is available to approved TD brokers as well. So you can bet that TD will do some mega volumes with this offer, particularly since brokers have no better refinance rates on uninsured variable-rate terms.
---
---

---