For years you've been able to apply for a big-bank mortgage on the internet. But you've never been able to complete the entire approval—including choosing a good rate—100% online.
That changed in 2019. TD and Scotiabank became leaders by launching digital mortgage applications where consumers could process almost the entire mortgage online—by themselves—including choosing a discounted rate.
And that rate aspect is key. Until recently, you had to negotiate with a bank rep to get a better-than-advertised rate. Now, banks are becoming more willing to show their cards—online.
In TD's case, the bank knows full well where the puck is headed. Mortgage shoppers are slowly but surely migrating to the online mortgage channel, so the bank is investing heavily there.
It's been continually tweaking the digital mortgage it launched last year, and we're happy to report version 2.0 is a meaningful improvement.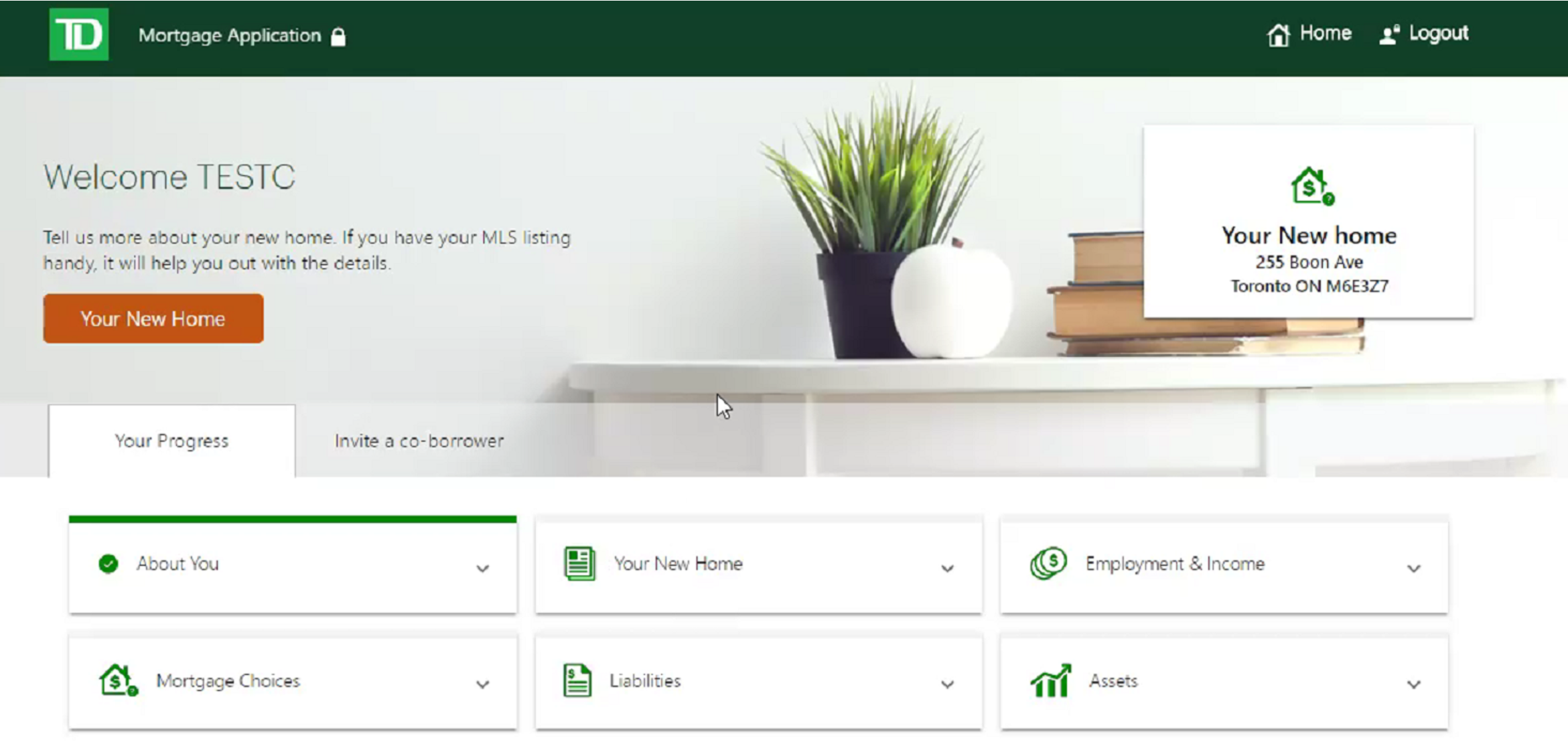 We've done a deep dive to see what makes TD's digital mortgage unique. Here's what we like about it…
A More Transparent Online Rate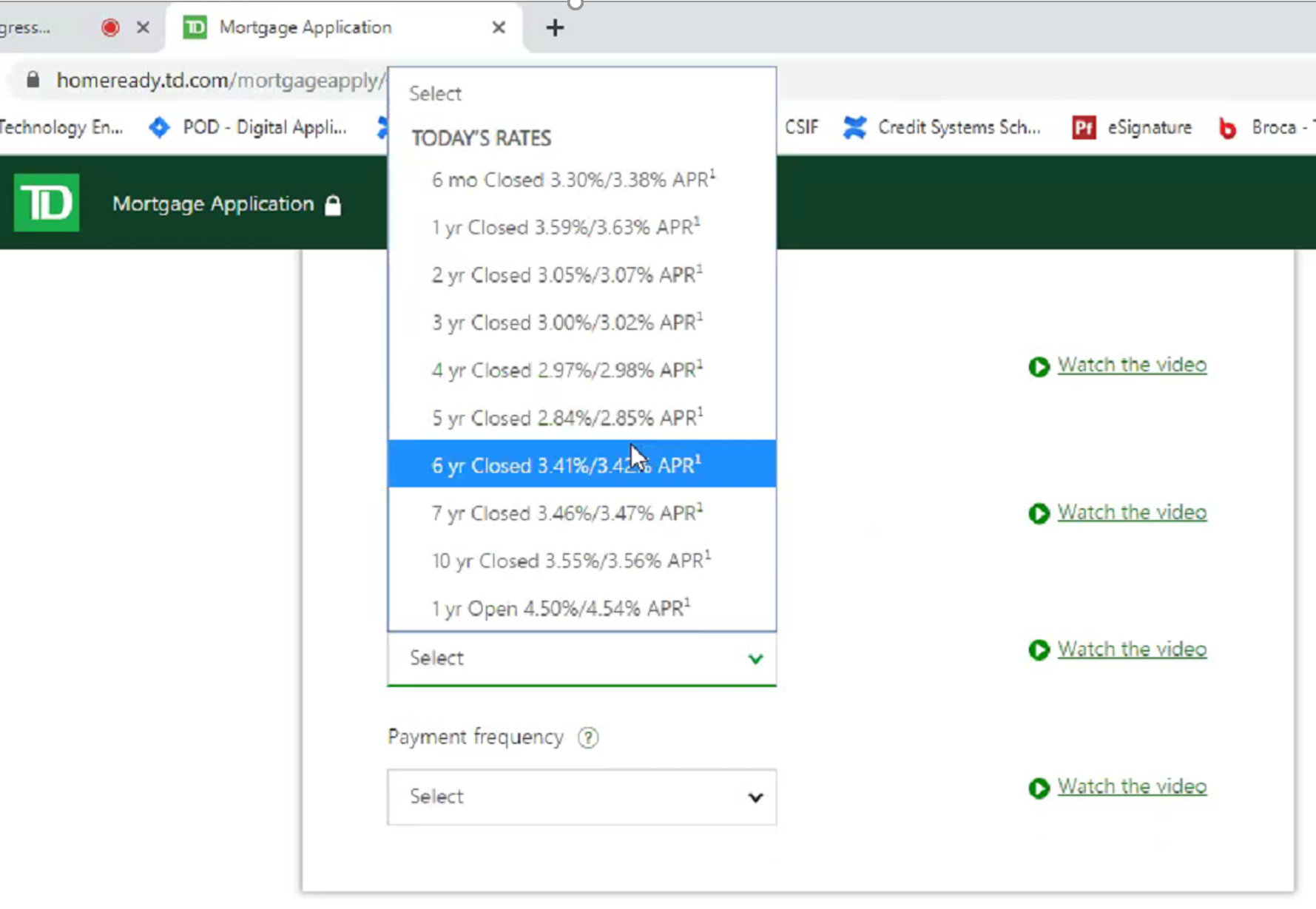 Every lender that's not a dinosaur has an online application. However, not every bank offers decent rates to online applicants.
TD, like Scotiabank, gets it. People want to see great deals online before they commit.
During our test of the platform, TD's digital mortgage rates were materially lower than its regular online advertised "specials." We're talking 15 basis points lower than the average 5-year fixed discretionary rate of the Big 6 banks at the time. And that's for a 120-day rate guarantee. Many deep-discount rates only have 30- to 90-day guarantees.
While those rates may not be the lowest in the industry, they're fair and competitive for a big bank. And most importantly, they're more transparent. That means something, because we all know that banks don't usually advertise their lowest rates on their websites.
Speed
TD's digital mortgage pre-fills much of your data in the application to save precious time.
It takes your liabilities from your credit report, for example, and pre-populates address data using APIs
If you're a current TD customer, it pre-fills much more data
If you got a pre-approval from TD, you simply enter your "certificate number" and it'll pre-fill all your data from your existing pre-approval application.
For a customer with their info and docs ready, a single borrower can complete the application process in as little as 30 mins, says Pat Giles, Vice President, Real Estate Secured Lending at TD. That includes document uploads, credit check, etc.
Mobile Friendly
"The majority start the application on their mobile device," says Giles, so TD designed it to be easy to input data with little keys.
Document uploads are another matter. "What we find is that most customers require gathering of documents at home…" Giles explains. So TD made it easy to log into the app from a separate computer and pick up exactly where you left off on your phone.
You can even invite a co-borrower to your application by email. It's a convenient feature that's kind of like sending an email money transfer.
The App is Complete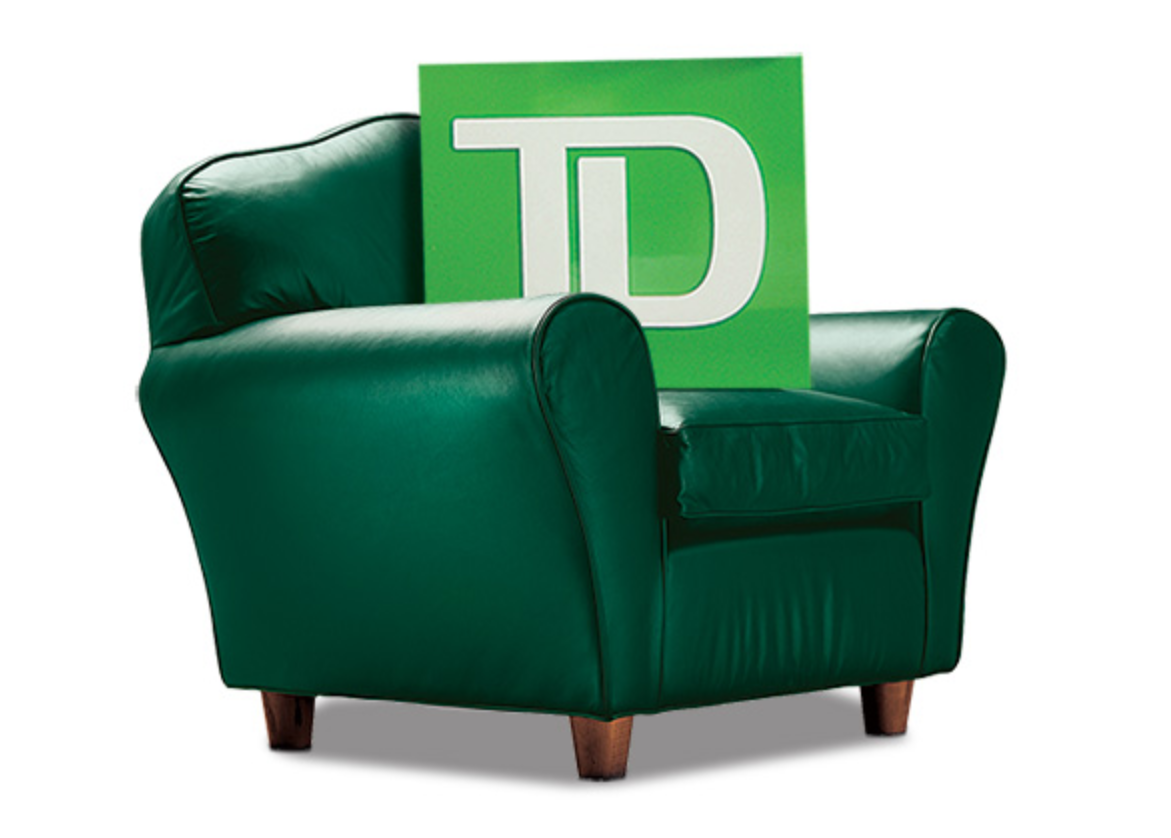 Some banks only have abbreviated applications on their website. That means you have to talk to someone to provide more data.
TD's is a full application that gives the bank everything it needs to fully underwrite the mortgage.
"The driving force was making sure this [application] was not a digital veneer that required multiple followups with customers," says Giles.
The bank asks for all the docs it needs, and it asks for them while you're working on the relevant part of the application. For example, it'll ask for your pay stub while you're entering your income details.
Unlike Scotia's eHOME mortgage, TD keeps humans involved. "After the app submission online, we have a team of phone-based mortgage specialists who reach out to all customers to ensure we know about any unique circumstances and so the customer feels like all of their questions are answered," Giles says.
More on the Rate
In 2003, TD launched a product called the "Best Rate Mortgage" with a discounted "no haggle" rate. This old ad from the time shows TD promoting how you didn't have to haggle to get a good rate. Most consumers hate dickering, so the concept was good…at least on paper.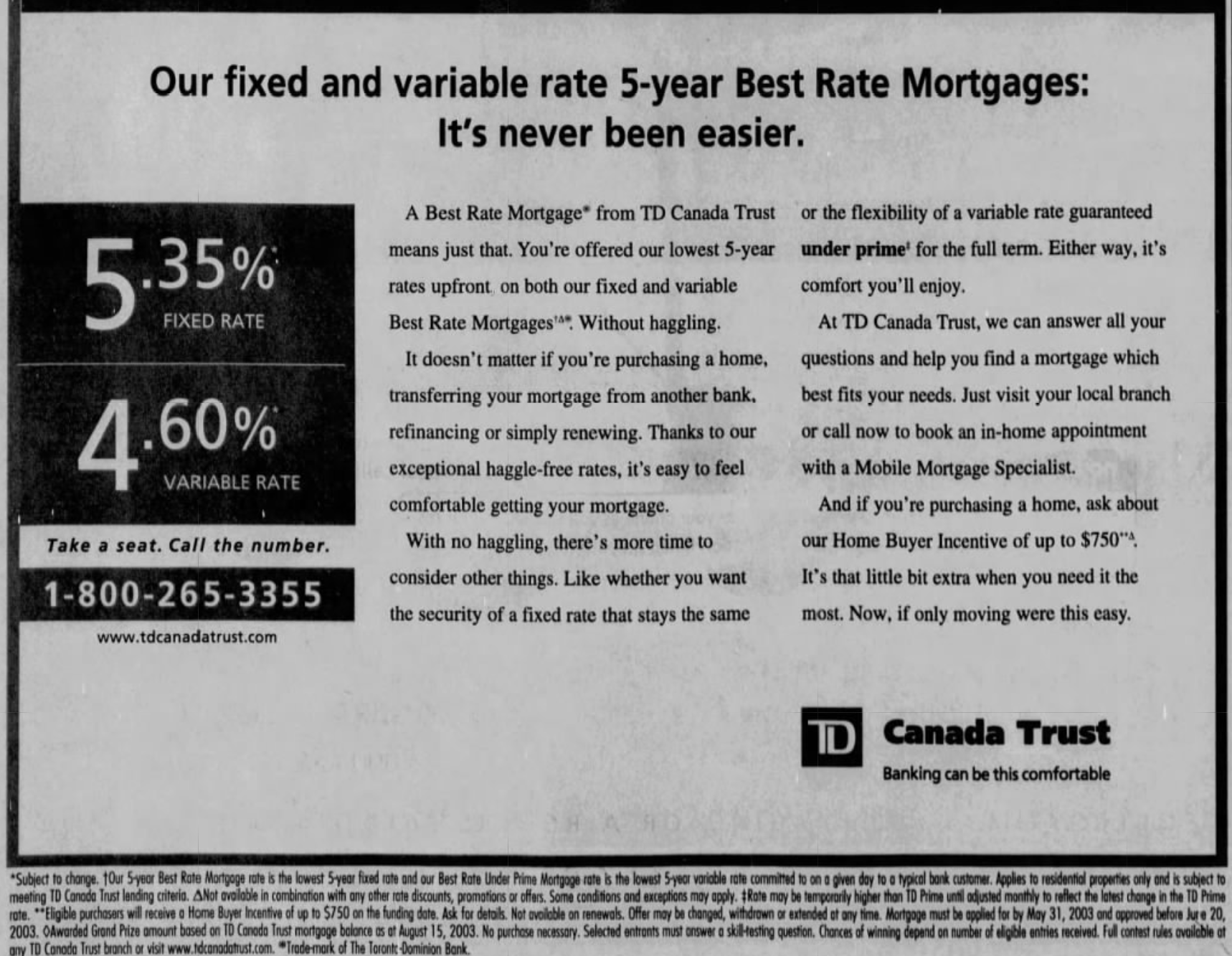 Unfortunately, the Best Rate Mortgage didn't last. It was pulled from the market not long after.
For one thing, people didn't believe it was the bank's true lowest rate. And others simply used TD's no haggle rates as leverage to negotiate with other banks.
Today, we've come full circle in a sense, with the bank going back to upfront rate quoting, albeit behind a login screen online. They and other banks don't really have much choice. Consumers shop for rates on the internet more than ever. An online customer who doesn't know if your rate is in the ballpark may not take their time to fill out an application.
Where a bank like TD has a challenge is with customers who see lower rates elsewhere, but have a bias towards the bank. TD's solution, Giles adds, is to keep customers in touch with people in case they have rate or other concerns. "We don't lock customers into an online-only rate," he says, and that can be reassuring to people.
In Sum
TD's Digital Mortgage is a solid self-serve mortgage application. The time savings versus driving to a branch is significant.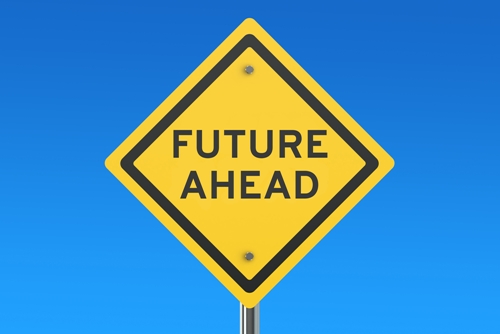 Among the things we didn't like:
It's not available for refinances (yet).
The rates could be 10+ bps lower to compete with online mortgage leaders like HSBC and motusbank, let alone online brokers. (Side note: Scotiabank's eHOME mortgage rates were 5-10 bps lower on the day we tested, but rates change all the time so it's not fair to compare based on one day. Either way, the bank nonetheless deserves credit for making rates more transparent to consumers.)
You have to talk to someone. A recent Rates.ca survey shows that 18% of Canadian mortgage shoppers don't want to talk to anyone. They just want a quick online experience and an ultra low rate.
And speaking of experiences, the great thing about mega-banks like TD is that they have ample resources to keep refining their mortgage interfaces. That drives competition and it means that five years from now, it'll be meaningfully faster and easier to shop, get approved for and close a mortgage online.
"One thing on our radar near term is to…allow customers to sign [the final documents] digitally with a phone-based rep," says Giles. "A trip to the branch will no longer be required to close."
The bank is also working on open-banking technology to help consumers share information from other financial institutions more easily. That too will shave several minutes off the mortgage application process.
That's the kind of convenience today's Smartphone generation expects. And it's why Giles predicts "demand will grow" in the bank's online mortgage channel.
---

---