The wait for good news on trade is over. The U.S. and Canada reached a last-minute deal on Sunday to replace the current North American Free Trade Agreement (NAFTA). And we're seeing the rate effects already.
Canada's 5-year bond yield, which steers fixed mortgage rates, has rallied to a fresh seven-and-a-half-year high.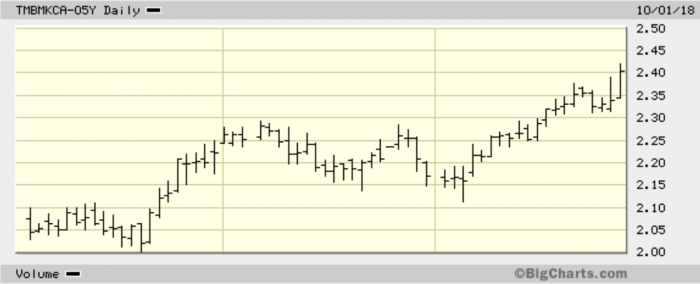 The new deal, called the United States-Mexico-Canada Agreement (USMCA), is expected to be signed as soon as November 30, after which each country's legislature must approve it. The pact is far from perfect but it's way better than no deal at all, given we rely on Americans to buy 75% of our exports, says National Bank Economics. The prospect of more tariffs (especially auto tariffs) have been a dark cloud on Canada's economy for months.
Borrowers Beware
The market will view this deal as more inflationary than not, so other things equal, yields could remain supported near-term. That means you'll want to lock in a rate pronto if you need a rate guarantee and haven't got one already.
Our intel from lenders and brokers suggests over three-quarters of borrowers are taking 5-year fixed rates at the moment. That's notable as more lenders announce fixed-rate hikes this week.
The best 5-year fixed rates are still in the low 3% range if you need an insured mortgage or have 35% down. Uninsured mortgages, which are required for refinances, investment property financing, million-dollar home purchases or 30-year amortizations, are in the mid-3% range….for now.
There's a good chance the 5-year yield could approach 2.50% before too long. That would take 5-year fixed rates up another 15+ basis points, which would cost 5-fixed borrowers $1,780 more interest over their term on an average $250,000 mortgage.
The biggest impact could come if/when banks up their posted 5-year fixed rates. That's now a more distinct possibility in the next few weeks. This would make it even harder to pass the government's mortgage stress test, and shut out incrementally more homebuyers and prospective refinancers.
---

---