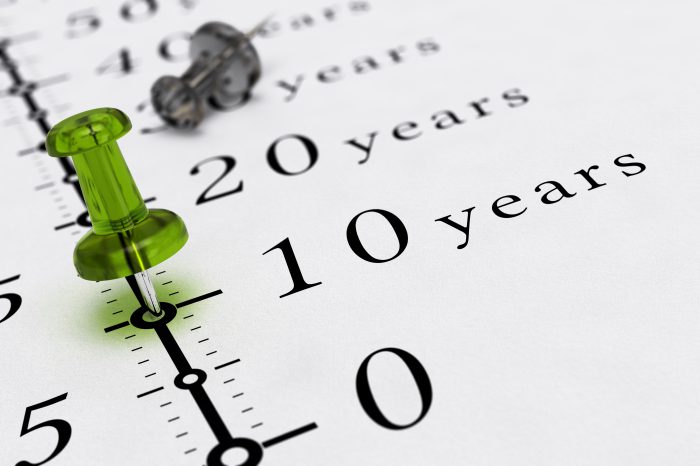 —The Mortgage Report: June 19 —
Long-term Money on Sale: If you're willing to commit to a decade-long term, and you live in Ontario, you can now do it for less than at any time in history. 10-year fixed rates are now as low as 2.79% (an effective rate including cash back) for well-qualified borrowers in Ontario. Outside of Ontario, you're looking at 2.84%. These rates are available on all loan-to-values. Refis too. Just beware: the penalty can be ugly if you break a 10-year before five years. Once you're five years in, the prepayment charge is just three-months' interest. These rates will appeal to only a small single-digit percentage of risk-averse borrowers, however. With 5-year fixed rates selling for half a point less, few will make the bet that:
a) inflation and interest rates surge by 2025
b) 10-year fixed rates are worth the extra $2,347 (per $100,000 of loan balance) interest premium in the first five years.
Renewal Gambit: Your lender may very well call your bluff when you're trying to negotiate your renewal rate. If you're well-qualified, let it. More on that from Rates.ca.
Steady as She Goes: Bond yields barely budged this week. That means yet another week where fixed rates didn't increase. In fact, quite the opposite. Fixed mortgages are still slowly getting cheaper as lenders eat into their profit margins. Those margins inflated to supersized-proportions after the brief March funding panic died down. Hence, there's still a little more room for rate discounting, even if bond yields do nothing all summer (which they won't).
Pessimist, Alarmist or Realist?: Canada's housing agency CEO clearly isn't paid to be a housing cheerleader. In a tweet this week, he suggested people not get excited by the rebound in home sales.
House prices lag economic events. Current price resilience proves nothing: don't take comfort from low-volume price action. Multiple offers are consistent with a huge decline in new listings. Government support programs have deferred (& reduced) an inevitable economic adjustment.
— Evan Siddall (@ewsiddall) June 18, 2020
Explosion of Listings: The record 69% surge in new real estate listings "could reflect homeowners that have lost their jobs being forced to sell," says Capital Economics. "Equally, however, it could be that the sudden re-start in economic activity was always likely to result in new listings rebounding ahead of sales."
No Slippery Slope: Oil's been doing a moonshot ever since the April lows. Today, crude reached its highest point ($40.49 a barrel for WTI) since the price war started in March. That matters for rates given how vital oil—a key Canadian export—is to GDP. Yet, bond yields aren't responding, as the below chart of oil vs. the 5-year yield shows. That's curious given the positive correlation between the two over the last decade. If the market isn't taking as many cues from oil, it suggests a surge in oil prices could entail less risk of higher mortgage rates than it used to.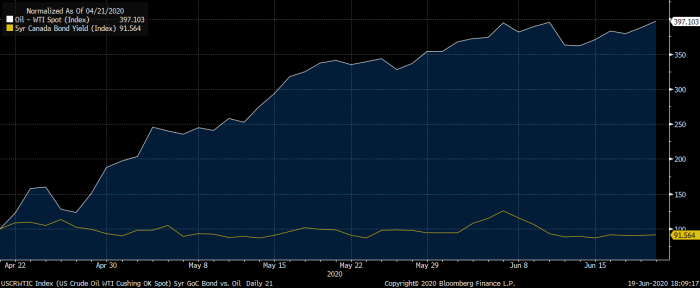 ---

---