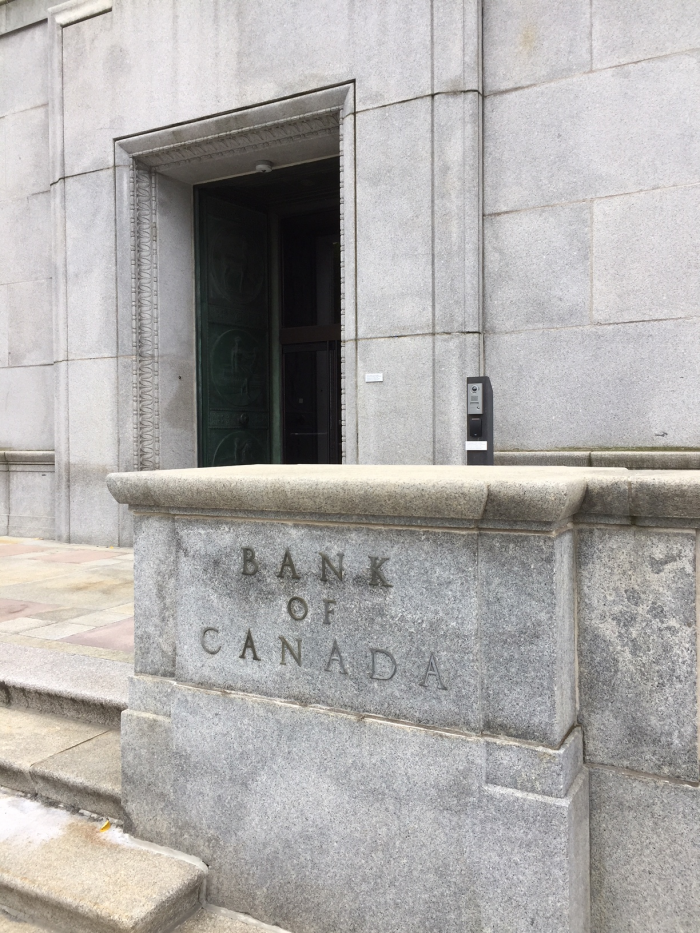 Quick Summary
Today's Announcement: No change to rates
Overnight rate: 0.25%
Prime Rate: 2.45% (no change; see Prime Rate)
Market Rate Forecast: No BoC hikes until 2022
BoC's Headline Quote: "…The Canadian economy appears to have avoided the most severe scenario…"
BoC on the Economy: "…The Bank expects the economy to resume growth in the third quarter."
BoC's Full Statement: Click here
Next Rate Meeting: July 15, 2020
The Spy's Take
Economists speculate that we've already seen the economic bottom.
BoC rate cuts take 18+ months to work through the economy, so it's very early days for a recovery.
Canada's bond market interpreted the BoC's message as more optimistic than not. The 5-year yield, which leads fixed mortgage rates, is up 5 bps as we speak.
The Bank promised to "continue large-scale asset purchases," including buying government bonds "until the economic recovery is well underway." That'll keep yields, and hence fixed mortgage rates, lower than they otherwise would be.
Once the bond market believes it's full-steam ahead for the recovery, the 5-year yield (and fixed mortgage rates) will pop higher.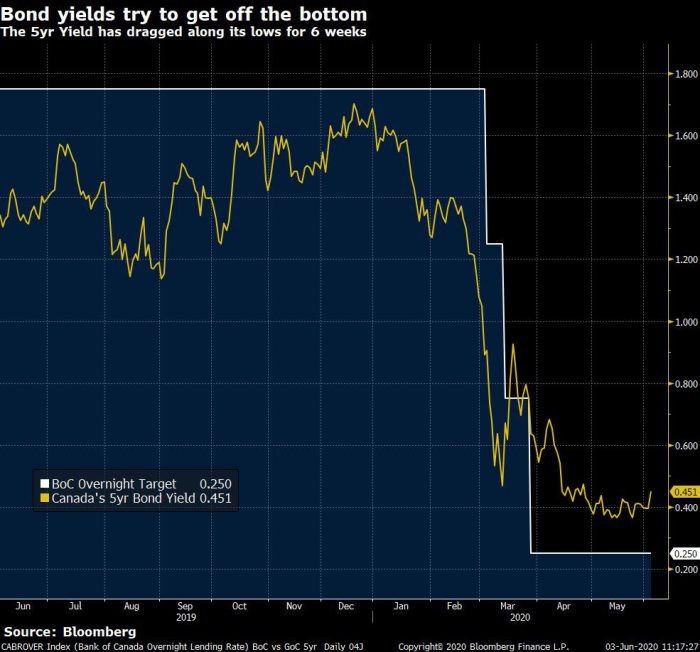 How to Play It
At some point this year, fixed rates will rebound. That's guaranteed. But that doesn't mean they won't go lower before or after.
Given that rate timing is impossible and chances of major hikes in the next five years are arguably small, certain risk-tolerant borrowers will roll the dice on short-term fixed rates and variables. That's a reasonable play for the right financially secure borrower if rates get low enough.
Should conventional 1-year and 2-year fixed rates drop below 2%, they'll appeal to those wanting a short-term option while they wait for variable-rate discounts to improve. At present, HSBC has the lowest widely available uninsured short-term rate, that being its 2-year fixed at 2.34%. That's a bit overpriced given how low market rates have dropped, but it can't hurt to ask HSBC for lower if it's a rate that interests you.
For insured borrowers, one-year rates are already 1.99% or less in some provinces.
If/when 5-year fixed rates slip to 1.99% or less, however, we'll see a new burst of borrowers locking in.
The BoC poured more cold water on the idea of negative rates, repeating today that the overnight rate is already "at the effective lower bound of ¼%." The odds of further prime rate drops, therefore, seem remote. That implies the odds of success are lower for people who take variable rates above 2% today.
Despite that, assuming the BoC follows a roughly similar playbook to 2009, prime rate could stay within one percentage point of where it is today for the next five years. While you can't always rely on history repeating, it does suggest that existing borrowers floating at (roughly) prime – 0.65% or better shouldn't rush to lock in. That's especially true if they have a fixed-payment variable mortgage that protects their monthly budget.
---

---