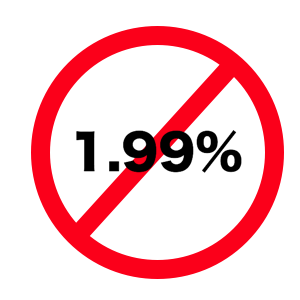 For now, the days of sub-2% everyday mortgage rates are officially over. Wednesday morning's slightly surprising 1/4-point Bank of Canada hike was the nail in that coffin.
The ensuing 1/4-point bump in prime rate will push all remaining mortgage rates above the psychologically key 2% threshold.
By next week, the lowest rates should jump roughly as follows:
Insured variable rates: From 1.89% to 2.14%+
Uninsured variable rates: From 2.10% to 2.35%+
Insured 5-year fixed rates: From 2.48% to 2.58%+
Uninsured 5-year fixed rates: From 2.70%+ to 2.80%+
If you're trying to strategize on your mortgage given today's hike, below are some tidbits to remember:
Even though 1.99% rates are gone, this doesn't mean great deals are extinct. Any mortgage of 2.79% or less is a gift from the rate deities. Why? Because at that rate, you're generally paying more principal than interest—assuming an amortization of 25 years or less. Five-year fixed borrowers have enjoyed this edge in just five of the last 82 years (as far back as the BoC's records go).
Your lender will almost never offer rates similar to above if you're converting from a variable to a fixed. Instead, you'll likely get its crusty old "conversion rate," which is sometimes 15 to 20+ bps higher than it gives new borrowers. (Some lenders have a one-rate-fits-all policy, but they're the minority.) Always compare your lender's conversion rate—plus switching costs and penalties—to the best rate you can get elsewhere. Doing this math can be lucrative.
As usual, the lowest rate is not necessarily the best rate. Instead, you want the mortgage with the lowest overall borrowing cost. So factor in early breakage penalties, porting rules, blend-and-increase options and refinance flexibility, if they're applicable to your situation.
The breakeven rate between a 5-year fixed and variable is roughly 0.69%, assuming three future rate hikes. In other words, if you find a variable rate or 1- to 3-year fixed rate that's more than 2/3 of a percentage point lower than your best 5-year fixed option, it's worth a look. That's assuming you're well qualified and can tolerate rate risk. For non-rate considerations, peruse this checklist when deciding between a fixed or variable rate.
When it comes to rates, what goes up always comes down. Economies are cyclical and last quarter's 4.5% GDP growth won't last. Mortgage rates are cyclical too, so you can bet your stack that they'll consistently run below 2% again. It won't happen this year. Maybe not next year either. But it will happen some day.
---

---